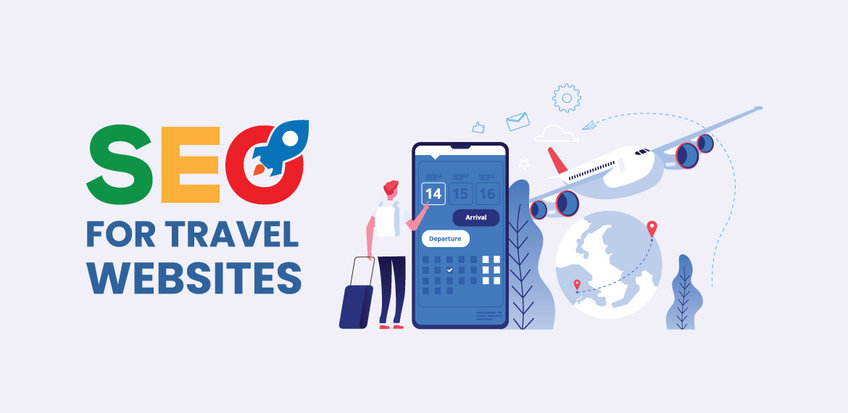 Layout2
How to do SEO for Travel Websites: The Ultim-8 Factors
Welcome to the coal mine for travel websites. Be on the lookout for diamonds now
In today's world, SEO has become a prerequisite to perpetual success. This holds especially true when it comes to SEO for Travel Industry, where relevance is the key to profitability. 
You cannot have a tourism website and earn from it without travel SEO. Today, travelers don't have time to look up commercials for tours. Instead, they can use their phones and search for the most popular travel agencies via Google.
So, most travel websites are focused on pulling customers through SEO rather than pushing their services with ads. 
Such aware websites are going for Travel SEO and working up to being on the first page of Google search results.
This can be done with two methods, you can Pay-Per-Click(Click), or go with Search Engine Optimization (SEO). With PPC, you spend large sums, get instant results, and the second your budget ends, disappear into oblivion. This is the reason it is better to go with SEO. Granted, SEO can take longer to provide results, but these benefits are here to stay (much, much longer than PPC). Due diligence remains a strong factor in any case.
The SEO Necessity For Travel Websites
With SEO, your focus is to be understood by a search engine, to let it connect you with your target audience. As a travel website, your mission is to be the first preference of your potential customers. It is imperative that Google understands you, and so does your potential customer, orders start coming automatically. Failure to do it means getting lost in the ocean of obscurity, which is unaffordable for any business.
What if your Travel Agency's website was optimized?
Well to be precise, your potential customers will visit you and likely book a trip too. Moreover, if you're consistently at the top of all relevant searches, it will only take a short while for you to become a market leader. Be wary, this is no small feat, and you will have to go through much grunt work to reach there. But the benefits are truly worth it.
With a Search engine optimized travel website, you will have the word of mouth from every previous customer, and have the coveted position of every competitor. Imagine being the first choice of anyone and everyone looking to travel, or, being the first choice of every tourist. That is SEO done right. However, to do it right, you need to have the right considerations too.
It's time to discover diamonds.
The Ultim-8 SEO Optimizations for a Travel Website
As a travel website looking to convert online, the below infographic needs to be given the highest priority. We will also discuss these in detail shortly.
Mobile-first: Your website should be available on every device.

UX: Give your visitor an immersive journey about your services.

Site Structure: Keep a concrete format for your website for Google to understand

Content Design: Ensure an information flow that effectively communicates your offering.

Location-based/ Local SEO: Target your website visitors in reference to their current and preferred location.

Optimized Images/Videos: Clearly label all media on your website. Images and videos should also be compressed to load seamlessly.

Google Micro-Moments: Grab User attention as soon as they think about a trip, not just when they want to book one.

Social Media SEO: Getting Virality on Social Media can lead to higher Google Rankings. 
Keep digging, and you'll land in wonderland!
Keyword Research: The magic of SEO is in Keywords
The right keywords are the essence of your travel website's SEO. These keywords are the words or phrases most commonly used by your target audience. 
Unless you are using the same keywords or similar variations in your content, Google will not connect you with your audience. However, this doesn't mean that you should spam your site with keywords, as Google will find out and ensure you never reach the first page.
Therefore, your strategy should be to blend the keywords along with variations into meaningful content. If you have heard the term "keyword" multiple times before and think it's overrated click here. 
Now that you know what to do, you can start learning what your competitors are doing.
1. Stealing Competitor Keywords: Ethical Espionage in Action
If your competing travel agencies are ranking above you with SEO, they must be doing something right, or maybe, you're doing something wrong. The only way to find out is through analysis.
You have to start by learning about the keywords they are using. If they're ranking way above you, maybe it is time to change your focus keywords (don't copy their keywords, as that would do you more harm than good). For example, "travel" can become a "journey", "tour" can become a "trip".
You can start by finding out better keywords with multiple tools available online. Once you're done with them check out what kind of link building they use. You can also read about the best SEO metrics for link building here. 
2. Location-Based Keywords: Go Local and Global!
As a travel website, your focus is likely to be mostly international, but this doesn't mean getting distracted from the local market. A travel enthusiast is likely to be mindful of their current location, as well as their preferred destination, so your keywords should be used accordingly.
For example, your customer is a person looking to travel from the USA to Europe. This should provide you a cue on two location-based keywords "From USA" and "To Europe". Now you can go straight with a blog topic like "Why you should leave the USA and have a vacation in Europe".
Or, you can get a little creative and use a topic like "Activities an American should be doing in Europe this spring". Similarly, you can also include landmarks as keywords.
A topic like "Why people from the US love Buckingham Palace" is likely to pique the interest of multiple Americans. You can also put a search bar at the center of your homepage to make searching easy for users.
Travel industry giants like Booking.com are especially vigilant about these factors.
The website allows users to easily specify every requirement with a few clicks. The results presented then give them multiple options to choose from. 
While such a page may provide specifications, your blogs will also give visitors an idea about what to expect from their trips. Although you can advertise yourself as much as you want on your blogs, it is better to keep it subtle.
This would let you keep your content informative while allowing for impeccable usage of location-based keywords. Have a look at this blog by G Adventures. While the blog mostly talks about places to visit in Czech, you will see that the link at the end takes you to their landing page. This page is focused on making the sale.
On-Page Optimizations: Look Worthy, Not Wordy 
Your keyword strategy plays an important role in ensuring you are recognized by search engines. You have to place the right keywords on the right pages for Google to understand you. 
If your priority is offering tourism in Europe, the keyword selected has to appear on all the relevant pages. This would allow Google to index your website properly, giving you the advantage of having the right pages appear for people searching "tourism in Europe".
1. Basic SEO: Your Vigilance Ensures Excellence
As stated earlier, your website needs to be understood by Google before it connects you with your audience. As such you need to have a checklist to stay aware of your On-Page SEO.
a. Meta Elements 
Use meta tags, titles, and descriptions to provide information for people who find you on Google.
b. Title Tag Modifiers
These allow you to display text from a page without including it in the URL. Title Tag Modifiers are especially applicable for creating trendy blogs.
c. Internal Redirection
It is important to keep your visitor engaged. A visit should not end on a single page. Instead, it is much better to redirect people to multiple pages so they can learn about you in-depth. However, you have to be that much interesting too.
d. Ensure Readability
Any and all content on your website needs to be readable. There are no excuses for this factor.
The above points are merely the tip of the iceberg, to get more details, click here. 
2. User-Experience: An Engaged Visitor Can Be a Happy Customer
But this isn't all, your website needs to provide an impeccable user experience. A tourist visiting your website should feel their dream trip. Take Tripadvisor for example.
Their search bar is given the highest priority. You open the website and can immediately search about your destination. Other than this specific feature, your travel website should demonstrate destinations in an elegant structure.
A perk of your industry is that you don't need to explain with just words, so be sure to use as many aesthetic images and videos as possible. A vibrant outlook will not only keep your audience engaged with the webpage but will also pique their interest in what you have to say!
3. Content Design: Attraction Brings Traction
The adage of "Content is King" remains as relevant as ever. Your objective is to be a mind-reader for your customers.
A visitor should find the information they need within seconds. A tourist with a million hits on Google will not stay long to skim through your website if they have to check all your pages.
Here, your content design will play a key role. We talked earlier about having the "trippy" feel to your website, but now your focus is to align your content such that you answer a visitor's query before they have to search for it. In short, ample information, minimum navigation.
Moreover, you need an information flow that is organic and catchy too. You need to take your visitor on a trip virtually before they opt to take one from you physically.
4. Name Game with images/videos
Your travel website should be loaded with images and videos. After all, words are not enough to take your visitors on a trip, right?
You can also label images with alternate text, or alt text. This is when you give an alternate description to an image to let Google, as well as users, know what it represents. With this clarity, your content is better indexed with the search engine, paving the way to a higher ranking.
Once you have the above benchmarks set and satisfied, you can finally move towards SEO in depth. 
Keep reading, and the pearls of wisdom will keep coming
Your On-Page SEO seems to be in order. How about scattering your presence on the web now with Off-Page SEO?
Off-Page SEO
We sure hope you have a list of popular travel blogs and websites with you. If not, now is the time to make one. Once you're done, start generating content with subtle service placement and sending it to these websites. 
If you get published on these websites, a travel enthusiast should land on your page. Furthermore, Google will also recognize your growing presence and start ranking you up!
1. Social Media Backlinks: From Conversations to Conversions.
Being present on social media has become a prerequisite for any business selling online, but holds special value for online travel businesses. In fact, these mediums are the best to get as many eyes as possible towards your offering. 
As a travel agency, your best bet would be utilizing Instagram with an effective hashtag strategy. Appealing imagery and videos garner a lot of views and reactions from the public, but knowing how to utilize them is the key.
Simply go and type #Travel or #Tourism and you will be bombarded with millions of posts. However, as hashtags get specific, results start narrowing. See the difference in the number of posts for #Tourism and #EuropeTrip.
If you're able to garner an audience on social media, you can redirect your followers to your landing pages as well, giving you access to organic connections too!
Also, social media allows everyone to contact you informally. This eliminates long processes and lets people get answers faster. Using the same conversation you can score leads as well as conversions too!
You can also use social media backlinks to rank higher on search engines. However, it is another detailed discussion we have already outlined here. 
2. Online Reviews: A Review-tiful Presence
Each good review is a testament to your offering. Make sure you get as many positive ones as possible. A brand with multiple reviews gains trust from first-time visitors too. 
If a website has great reviews throughout the web, people trust it much more than an obscure brand. Multiple websites like Tripadvisor let customers review your tour services online. This ensures that your link building (Off-page presence) and SEO (customer visits) occur simultaneously. 
When people see your previous customers praising your services everywhere, they will surely consider you first when they are about to book a tour.
3. Influencer Marketing: Know Any Known People?
It's time to link up with celebs and influencers. These are the people followed blindly by the masses. Have a look at the number of views garnered by just Instagram Influencers who showcase travel (Each number is in millions!).
On average the lowest influencer on this list gets an average of 150,000 likes per post. So, if Fateh Halilintar takes a trip from you and gives you a shout-out, you can imagine how many people will see your brand.
Without boring you through the Math, rest assured that at least 15,000 people will be searching for you. Your ranking is bound to go up from there!
4. Press & Release
The internet is filled with publications and review websites that ensure you get the attention you deserve. A successful tour you provided earlier can be documented and released to the public with much ease. This would in turn translate to multiple people finding out about your brand and services. It is a backlinking method often preferred by large travel websites.
These press releases provide an efficient way to use link building. In other words, you keep your work subtle and let success make the noise. You can also learn more about considerations for hiring link building at this blog. 
For now, we will talk about making your website more accessible to customers.
Technical SEO: The Bits Almost Everyone Forgets
1. Mobile-First: Make Yourself Accessible
You must already have a travel website, or at least have one in development, if you're reading till here. Keep in mind that your website needs to be easily accessible by every device. 
Did you know? Google actually gives preference to mobile versions of websites as of August 2021? Moreover, most travel enthusiasts use their phones for searching rather than computers. You can read all about it on this blog. 
Also, a website responsive on multiple devices can give you that needed edge to garner visitors from everywhere. These visitors will be the ones ordering your service!
Your presence can play a major role in ensuring you're ranked up and considered a trustworthy travel agency. 
Now that you're aware of being responsive, we'll move on to ensuring optimum speed in your website.
2. Speed: Only Fast Ones Win on the Web
It is imperative that your website satisfies benchmarks set for user interactions. This is what Google calls Core Web Vitals. You can check more about Google's updates regarding user experience here. 
On average, a user spends 15 seconds on a website and 3 seconds waiting for a page to load. We already talked about using multiple images and videos on your website. This means you have to ensure all content is ready within 3 seconds or less.
3. Google "Google My Business"
Having a physical presence does not amount to much when it can't be seen on Google. Setting up your Google Business Profile is a great method to pinpoint your location.
Listing yourself on Google My Business is free, but provides an amazing opportunity to label yourself as a trustworthy Travel agency to your potential customers.
What's more? Customers will also find it easier to leave reviews about your services and rate you for better rankings!
4. Sitemap: Spectacular Structure
The would-be traveler will likely look for a website that is easy to surf. Most organizations falter at this angle. With a neat sitemap and structure, your visitors, as well as Google can more easily understand you.
However, setting up a sitemap doesn't have to be too difficult. In fact, you can get multiple templates to help you set your sitemap. You can also click the link below to check a Sitemap for a travel website in the skeleton format below.
It is also important that checking for different destinations is a breeze for your visitors. A tourist (your long-term customer) will be looking for all places you can take them, not just one.
In other words, your website should provide visitors with sections like "You should also visit" or "nearby attractions". These are immensely useful for garnering cross-sells and up-sells.
5. Schema Markup: Structure Makes You Better
Schemas are the codes that ensure Google understands your structure. While there are a lot of Schema types that ensure your text is understood and properly displayed by Google for relevant results, you have to set these codes according to your business. 
To learn more about schema Markups feel free to watch our detailed Youtube Video on the topic. Or, you can keep reading to see the results you will garner with Schemas done right. 
The best example of schema in action is in the form of Rich snippets. What are they? Just scroll to the image below!
See that rating and review section highlighted? That is the rich snippet! To learn this skill feel free to learn more.
Pro-Tips to Stand Out
A few pro tips will ensure you stay on the right track with your travel SEO:
1. Advanced Search
A visitor on your website should be able to find the information they require seamlessly. This means having search tools along with proper sorting and filters too.
Have a look at the above example, you can see how ClassicJourneys give everything without the need for the user to even scroll down.  
2. Your Content Should be EAT-able
EAT stands for Expertise, Authority, and Trust. It is a metric employed by Google to evaluate your website's content. Your website should have content that showcases your expertise, establishes your authority, and garners trust.
Any blog, or even a press release must talk about your services positively and appropriately so you are ranked up on Google. EAT plays a vital part in content marketing and can either make you or break you. This blog link explains content marketing in more detail.
3. Keep it Trendy
As a travel agency looking for SEO, it should be apparent to you by now how important search trends are. However, just like worldwide trends can change, your customers' search trends tend to change too.
For example, the COVID-19 Pandemic completely changed how the world used search engines. Here are just a few highlights of the impact on search trends. It is no wonder that the travel industry has been severely affected by the pandemic too.
Other than that, you also have to stay vigilant about the content consumption of your target market. While travelers are searching for tours and you know it, what else are they searching for? 
For example, they might also be searching for exotic foods one can get at the destination you're offering. Combining these factors can give you a title of an amazing blog! You can also read more about Content consumption trends for 2022. 
4. Google Strategy for Travel SEO: "Micro-Moments"
Feeling lost at the term Micro-Moments? No biggie, these moments, as Google defines it, are the impulses that make you open Google on your phone to search. We are sure you have already gone through many micro-moments in your life without realizing them. 
Like searching Google after reading a new word to learn its meaning, or listening to a new song to know its name.
When it comes to travel, Google classifies four potential micro-moments. 
This brings us to an essential tip. Your potential customers aren't just the ones who are looking for bookings, but rather anyone planning, going, or even thinking about a vacation. 
To better explain, put yourself in your customer's shoes. Wouldn't you be searching for the best travel agency even if you just want to know an estimated cost? 
Grabbing attention during the first phase can be crucial, as you will be one of their first choices if and when they decide to take a tour. Moreover, popping up in their search builds better trust than bombarding a potential customer with advertisements.
For this purpose, it is also important to get through to them with more than just a search engine. 
In other words, you need a social media presence too!
SEO Travel Challenges
Travel has always been a competitive industry. However, competition has become even more fierce since the COVID-19 pandemic. Therefore, the need to be number one remains important as ever.
While paid campaigns did help survival, the best way to grow since 2020 has been to get organic traffic. A rational customer knows that information needs to be gathered from multiple sources before a decision.
As such, your website must be amongst the first ones to provide the information a potential customer needs. However, this is much easier said than done. 
It is not enough to just know what travelers want to know, but rather where they are looking. Furthermore, you should remember that most visitors won't order your service on their first visit. In other words, patience is a virtue you need.
Did you know that people are searching more and more with voice? Soon, an average user won't even be typing, so you need to be aware of what they speak rather than write and plan accordingly. Therefore, it is important to Optimize your voice search. 
As a travel agency, you also need to know that your customers will likely be diverse. That is, they will be from different cultures, locations, and might speak different languages too. 
So you need to understand nuance and target them accordingly. For example, if you're selling a tour to Turkey, your content should focus on the perk of visiting Turkey. To better target consumers from Europe, the topic can be "What Europeans love about Turkey".
With such a strategy you can use keywords for tourism about both Europe and Turkey. This will provide you with the core competence of being especially specific to your customers. 
Then, you should also be aware of data limitations. As a travel agency, it is unlikely you have an expert team handling your SEO. This would translate to difficulty gathering insights. So, be sure to research as much as you can.
You should also be on the lookout to get SEO done from an external resource should the need arise. After all, getting the first rank on Google is best done by White-Label experts. 
Consider link building or backlinking for example. Do you know the owner of every popular travel blog? Are you aware of your Domain Authority and Domain Rating? 
This is where we excel, as we improve your search engine ranking by getting you exposure from the most popular and relevant platforms. Imagine being featured in a Tripadvisor post talking about your service.
With the right strategy, all the above challenges are surmountable by any travel website. However, keep in mind that not everything goes according to plans, so be flexible to shift when need be!