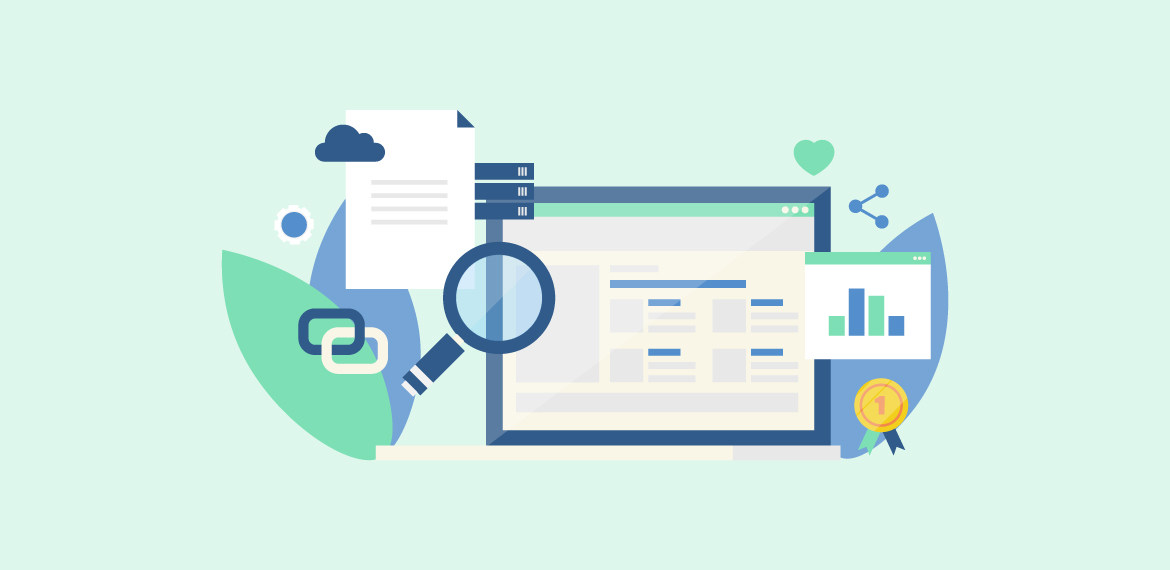 Layout2
From Content to Connections: The Art of Link Building through Link-Worthy Content
Research reveals that more than 6 million blog posts are published every day around the world. Along with that, there's a colossal amount of other forms of content going live every hour too. 
Content creators, link-building services, and businesses tirelessly work around the clock. Amid this cut-throat competition, most content fails to gain coveted attention and traction. And there could be several possible reasons behind it. Maybe they fail to gain a fair amount of views and shares, are outperformed by something better, or aren't just link-worthy. 
But what exactly makes the content link-worthy? This article will crack the code and inform you about the concept, information, and how to create link-worthy content to gain traction. So, without further adieu, let's get into it. 
What is Linkable or Link-worthy Content?
The dynamics of the SEO and content link-building realm have changed. We've come so far away from the old era of keyword stuffing and other cliched practices. And in the present times, the only content that gets eyeballs and the limelight is one that is link-worthy.
As the name suggests, the content which other websites find worthy of linking to is Link-worthy Content.
Such content pieces are premium quality, packed with valuable data, and offer unique knowledge to the audience. They give the right answer, solution, and information to the question asked by your target audience. 
Websites, forums, and other online platforms see such pieces as coveted resources to link to and give users a good read. Moreover, they also capture the attention of bloggers, influencers, and journalists from different industries. Therefore, they confidently direct their audience to your linked piece of content. So, in this way, link-worthy content effortlessly earns high-quality backlinks without much hassle. 
Linkable content is crafted with the goal of earning backlinks. So, creating them requires extensive research, fact checks, relevant information, relatability, and more factors. So, a lot goes into there, more than just the surface-level opinions and the research. It's not just some piece of the content but rather a precious asset. Similar to an investment, high-performing stocks, or lucrative property, it has the power to get valuable links and skyrocket your SEO performance like never before.    
Examples of Link-worthy Content
Some examples of link-worthy content are:
Case Studies: they depict the transformation and benefits a product or service brings to businesses or individuals. 
Guides and Tutorials: a step-by-step guide or a comprehensive tutorial on performing something, fixing a problem, or installing something. 
Industry analysis: an extensive study of a specific field offering multiple stats.  
Infographics/Charts/Visual Elements: images or infographics that showcase complex data sets in a visually appealing manner. 
Surveys/polls: these depict the preferred choices of the different groups of people. 
Expert Roundup: thee content pieces feature insights from renowned experts and thoughts of leaders over a particular topic. 
Original Research: perform your research and have a discourse on your findings in a detailed report. 
Long-form Content: publish well-thought-out, thoroughly researched, and in-depth link-building articles and blogs that provide crucial insights, address problems or bottlenecks if there are any, and also offer actionable insights. 
Analysis of some new tool or resource: In case you've created some tool/resource or come across one that particularly solves a problem or gives professionals some ease, the audience needs its review. You can highlight its set of features, functions, and everything necessary.
What are the benefits of Link-worthy Content in Link Building?
More backlinks to your site — more websites, platforms, and people link to your content piece. In the bigger picture, it brings more attention to your website, business, and online presence. 

Improved Search Engine Rankings — backlinks are one of the crucial ranking factors. So, earning links from authoritative websites elevates your search engine rankings and visibility. 

Increased Domain Authority — with the abundance of link-worthy content on your site, your site's overall credibility and authority increases. This, in return also enhances your site's domain authority. 

Expanded Reach and Promotion — as linkable content is shared more on socials and other platforms, it expands your brand's reach and taps into a new stream of audience.  

Long-term Value — link-worthy content pieces offer lasting value. They have evergreen characteristics that keep helping people, continue to drive traffic, and contribute to organic growth for a long time.  

Building business partnerships — putting link-worthy content online brings you many business opportunities in so many ways. For instance, short-term and long-term collaborations, guest blogging opportunities, and giving your opinions in some expert roundup. 

Thought Leadership — when you keep on publishing link-worthy content, your effort doesn't go unnoticed. You start getting recognition and valuable mentions on different platforms, people talk about your work, and this cements your online presence as someone authoritative and credible source. This helps you position yourself as the thought leader in your industry. 
How to Create Link-worthy Content 
Creating incredible quality link-worthy content requires planning, the right approach, and extensive research. Here are some ways you can produce link-worthy content of different sorts: 
Perform your own Custom Research
When it comes to link-building with content, it's important to make well-researched pieces. And it doesn't refer to reiterating the existing research on the internet but bringing something new to the table. You need to bring attention to novel and unique research.
For instance, you're creating a piece on "Which social media influences most people's buying decisions?". For that, you can conduct a survey of several hundred online buyers and have them pick their options and give opinions. If possible, you can also have several e-commerce business owners reveal their stats about which social platform brings them the most leads. You can use tools like Jotform and Survey Monkey to garner important research details. 
In order to conduct in-depth data analyses, it's better to leverage free government data sources. In addition, you can also use sites like Statista, Pew Research, and Neilsen. 
Whatever the results and data you receive, you can showcase them in the form of charts, infographics, or other visual elements. This way, you can also compare the present data to the past trends and analyze the big or small changes.  
Here's the perfect example of link-worthy content. Backlinko performed a study analyzing 3.6 billion articles and put forward all the informational findings. The following chart compares different words commonly found in the titles of evergreen content.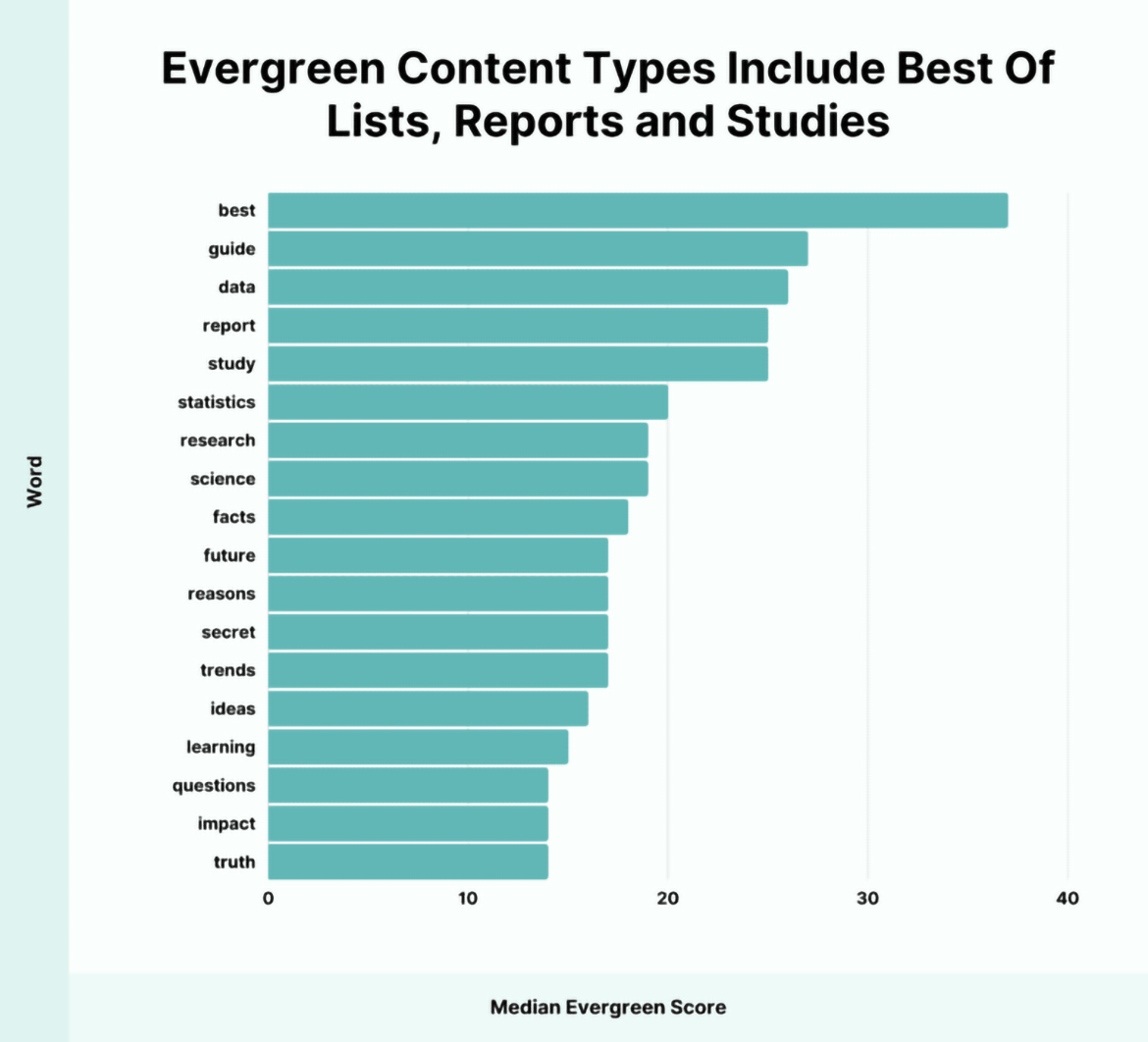 Identify Content Opportunities 
Not only does it allow you to unravel content gaps and discover more content opportunities, but it also ends up landing the right topic. All you have to do is perform some competitor research using the right tools and analyze what potential topics you've been missing out on. 
To start off, you can use Ahrefs, go to their site explorer option, and type in the eminent website in your niche or industry. Then go to the 'Best by Links' pages and check out which pages have the most referring domains. Sift through the topics in front of you and figure out which popular topics you haven't covered yet. You can also use another tool of your choice, like Semrush or Screaming Frog. 
Here we checked out the pages of Fat Joe in terms of referring domains.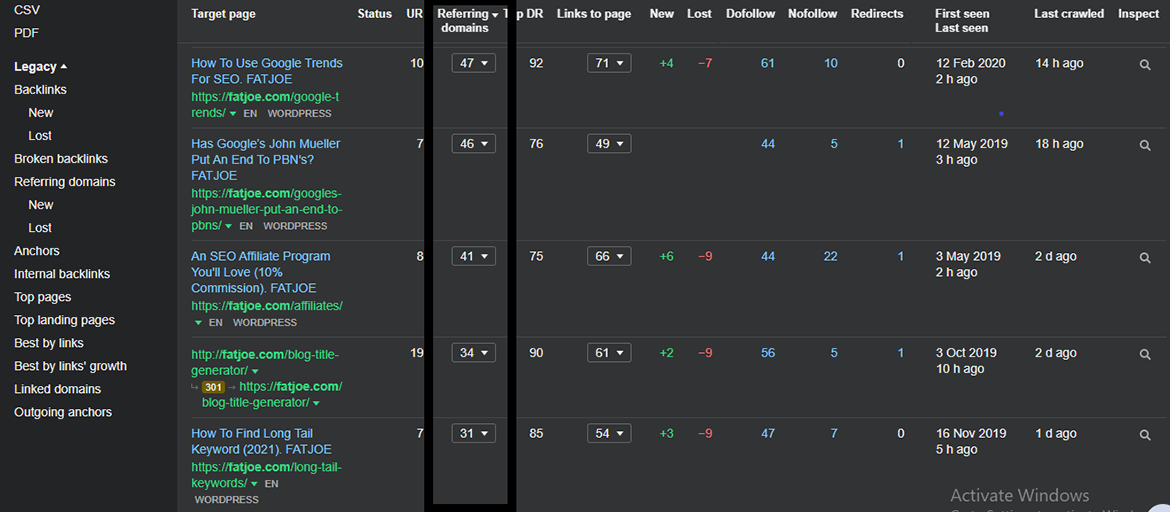 You can also use Quora to figure out the most popular questions related to different topics in your niche. And don't forget Google's "People Also Ask" section; this will also give you a good idea about the relevant searches. By doing this, you pick the right topic and make the linkable content. 
Another way is to type in your keyword in Google, check out the top ten results, and run the backlink analysis on them. Analyze the topics with the most backlinks and see how to make a better piece than the existing ones.  
Interview an Expert
Nothing comes close to the triumph of interviewing an expert or some renowned thought leader in your field. It has the ability to strengthen your content to a whole new level. Most importantly, this will create evergreen linkable content on your YouTube channel and website. Audio or video podcasts both work fine and are in trend too. And, of course, the perks of it are endless. People will watch, listen or read what the industry mentor has got to say on a particular topic; you can have all your bugging questions answered and also gain important insights.
So, reach out to multiple experts in your industry by shooting emails or dropping messages on Twitter. Who knows, you get successful in landing the coveted interview and have this amazing opportunity to hold up a one-on-one conversation, just like Marie did here. 

Incorporate Case Studies  
Case Studies play a huge role in earning high authority backlinks, social shares, and new leads altogether. Just like clockwork, the more case studies you have on your product or service, the more trust level it creates among your target audience. 
This is because people don't believe in all talk the talk but in walk the walk instead. So whatever your transformation or benefits your brands claim to offer, they want to see it in action, with proof of the actual results.   
Have a look at the case studies section of Wix and Shopify.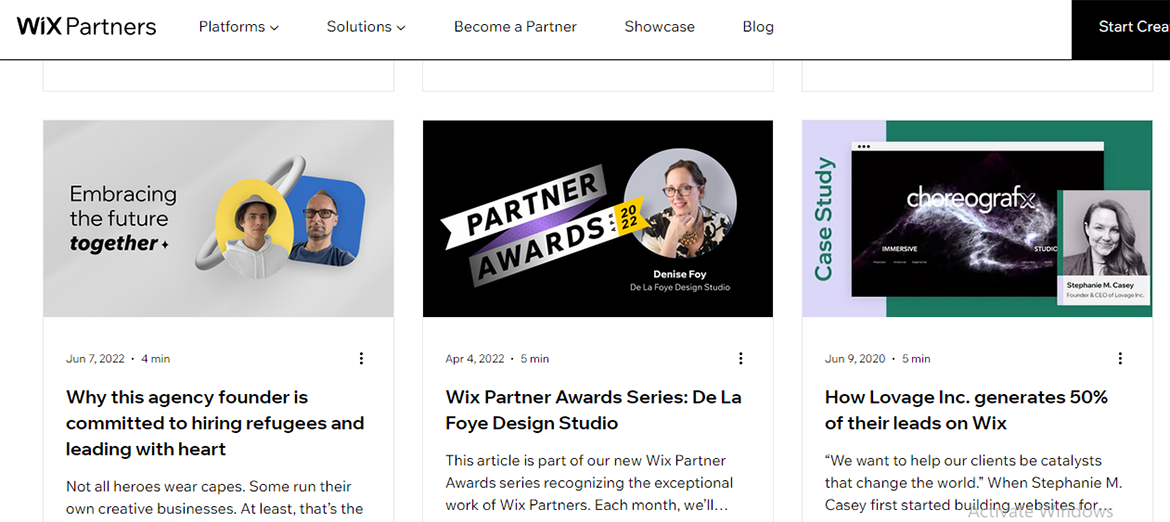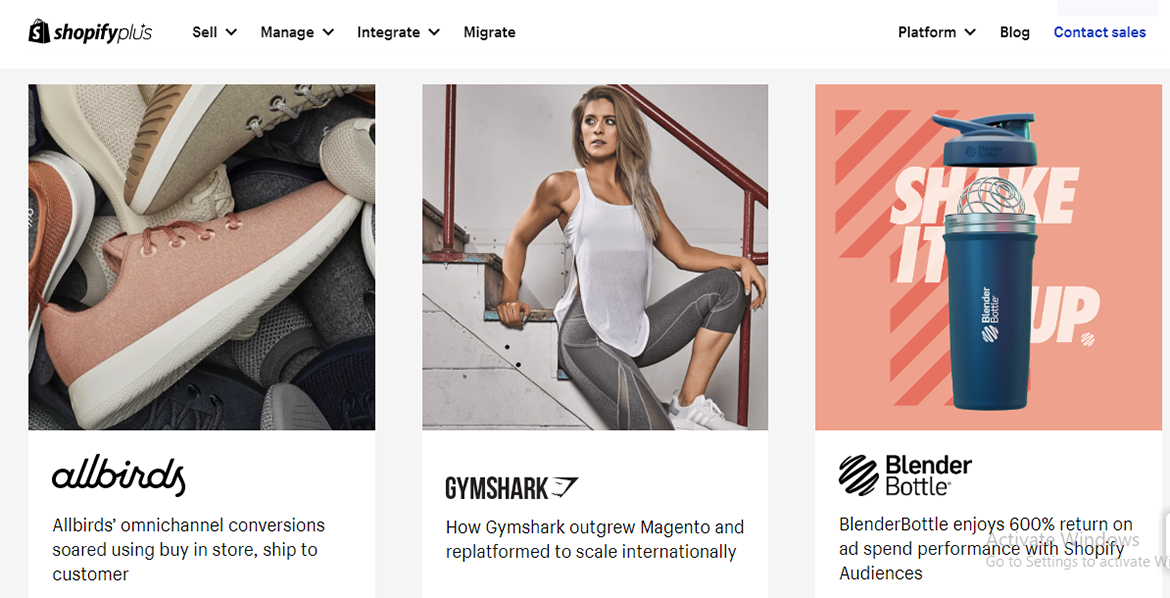 Using Ahrefs, we found out the number of backlinks for one of Shopify's case studies on Gymshark, and the figures weren't bad. 

So, ensure that your case study focuses on the customer journey and the positive transformation they experience. Be humble, don't go around boasting about your product. Because your words won't go unnoticed when you're narrating the story of your clients, be mindful of that! 
Use Infographics and other visual elements 
There's no denying that visuals attract more than text. They can make you pause scrolling and capture your attention much faster than other forms of content. And if we talk about popular socials, they're largely dominated by videos, images, and infographics. In addition, they can be easily shared and embedded by different resources with a link back to the original content.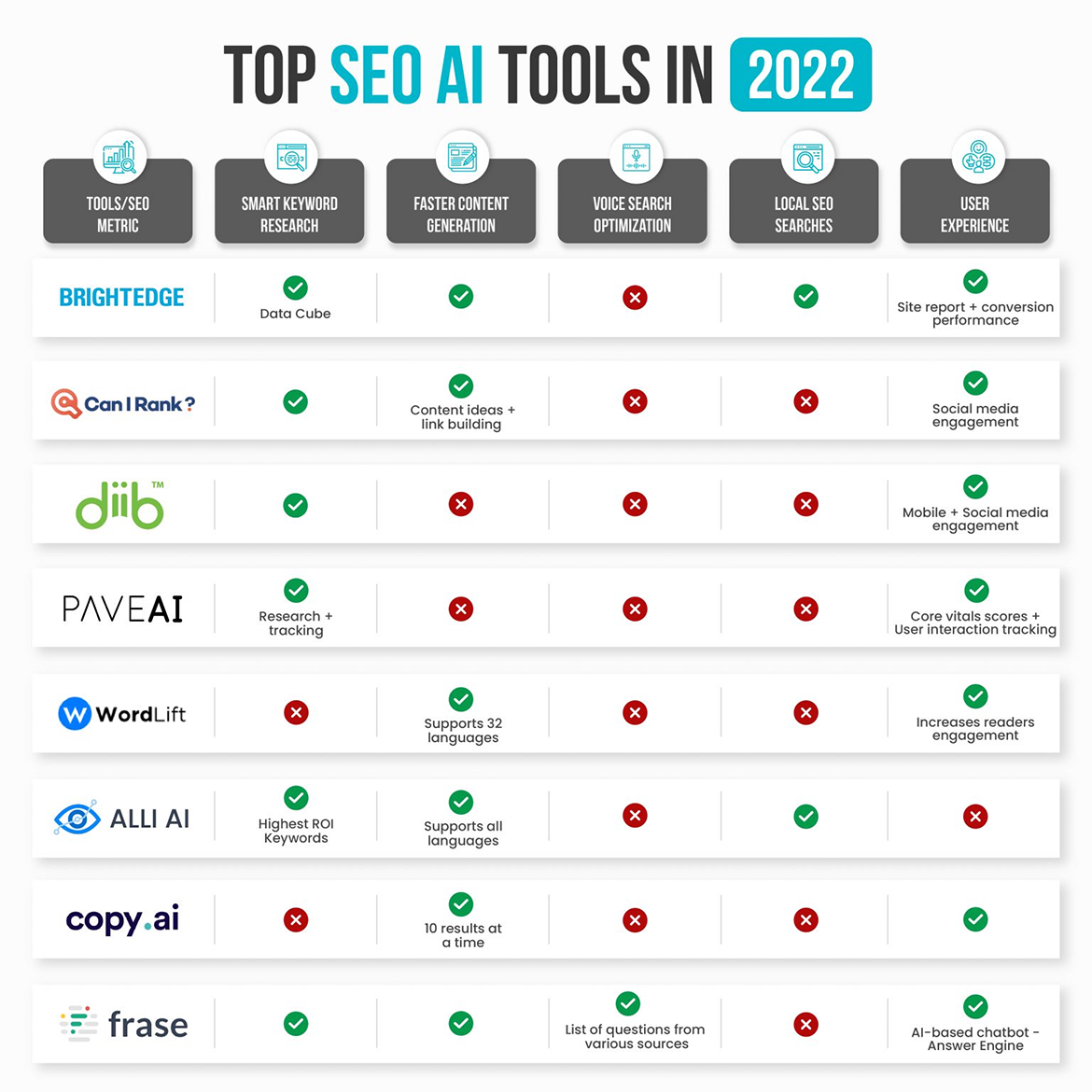 You can create an explainer video on your product, show your data in infographic form, convert interviews into a video podcast, and more such things. This way, your content will manage to get backlinks on different platforms and socials conveniently. And you'll also open the floodgates to the new stream of audience.  
Add Storytelling Elements 
It is established that people remember stories 22x more than the facts alone. So why not make the best of the storytelling techniques to create link-worthy content?  
In the content marketing paradigm, storytelling has a major impact. It involves unraveling the wants and needs of the target audience, addressing the issues, and building stories around them that resonate with the people. Storytelling focuses on creating a unique piece of content that is intriguing, engaging, memorable, and sharable.    
Of course, to make it work, you need to align that brand's marketing strategy and the storytelling concept you're picking up. You can use the basic Hero's Journey to develop your story from the ground up. In this particular storytelling pattern, assume a customer or a target audience is the main character, and your product or service is similar to magical stuff. Its sorcery will help the protagonist to overcome challenges and fix problems they face in their journeys.               
Here's the breakdown of Hero's Journey stages: 
Departure: Our story initiates when the main character leaves behind their familiar setting and enters the new world. They're facing problems/challenges and need something to fix it.  
Initiation: the protagonist moves forward in the new world. They overcome challenges with the magical stuff (your product/service). And fix all the problems they were facing. 
Return: After being successful, the hero returns to their familiar world. 
Here's the perfect example of a heart-touching story by Warby Parker. Their Buy a Pair, Give a Pair program brings clear vision access to the underprivileged.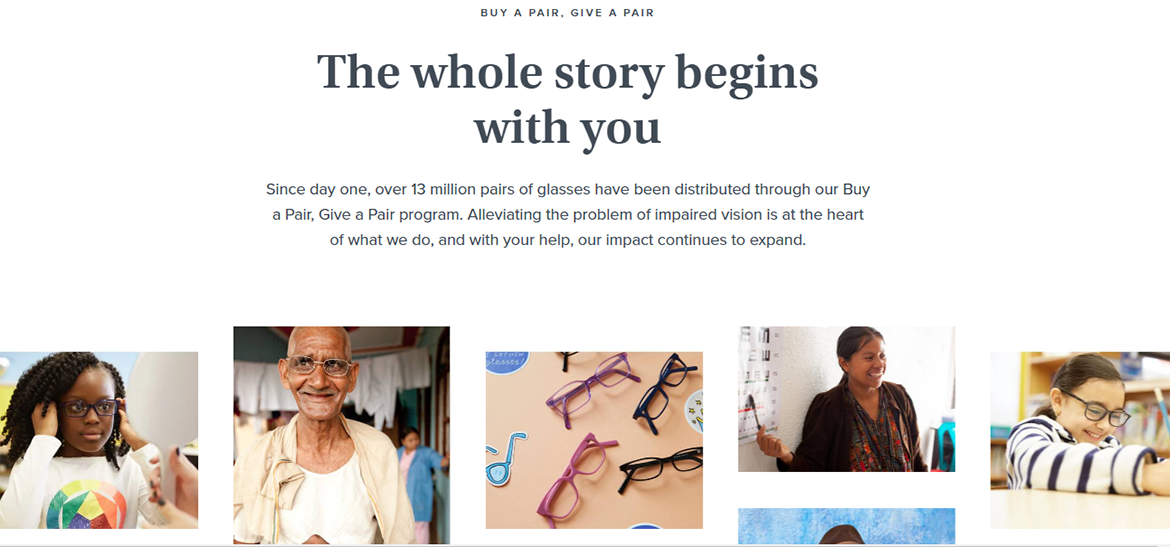 So, create content that tells stories about how your brand is making a difference by helping customers overcome challenges. This could also involve mentioning charitable initiatives, community contributions, or supporting a movement.
Storytelling empowers your content to a whole new extent and proves to be e real game changer for brands worldwide. Try it for yourself, and see the number of your backlinks increasing. 
Google's Updates & Guidelines 
The content you create can't be link-worthy if it's not aligned with the important Google Updates and the Guidelines. It's crucial that you optimize it accordingly for usefulness and readability. Speaking of which, it's important to mention important Updates we got in 2022.   
Let's review the updates' highlights briefly:  
Google has consistently held a firm stance against the practice of buying links, and their commitment is further cemented in the Link Spam update. It says: 
"SpamBrain is our AI-based spam-prevention system. Besides using it to detect spam directly, it can now detect both sites buying links and sites used for the purpose of passing outgoing links."
On the other hand, the Helpful Content Update brings forth the significance of creating People-first content and avoiding creating content for the Search Engines first. It says:   
"The helpful content update aims to better reward content where visitors feel they've had a satisfying experience, while content that doesn't meet a visitor's expectations won't perform as well."
So, if your content is not written with a people-first approach, there's hardly any  chance that it will get any backlinks. In this Search Central Document, there are two lists of questions that can help you decide if you're on the right approach or not. If you answer 'Yes' to the questions like:   
"Does your content clearly demonstrate first-hand expertise and a depth of knowledge? Are you keeping in mind Google's guidance for core updates and product reviews? Will someone reading your content leave feeling like they've had a satisfying experience?" 
Then, congratulations, you're on the right track!
And in case you answer 'Yes' to questions like: 
"Is the content primarily made to attract people from search engines without offering much value? Are you using extensive automation to produce content on many topics? Are you mainly summarizing what others have to say without adding much value?"
Then, it's a red flag, and you better reevaluate your content strategy. 
Furthermore, you can check out Google's Guidelines on Creating Helpful, Reliable, People-first Content. It covers everything important, including EEAT and the Quality Rater Guidelines.   
So, focus on creating people-first content along with following SEO best practices to get noticed and receive a plethora of backlinks. 
Conclusion
Link-worthy content is important for link building. You need that camaraderie to get those precious links you want. It enables people to get to know and explore what you have to offer, making them want to know more. This, in turn, facilitates more leads, conversions, and traffic. 
So, create Link-worthy content. Provide other businesses and influencers with something worth linking to. Let it be the powerful catalyst that amplifies your link-building efforts and online presence. Start today by following the tips mentioned above and witness the transformative impact it brings to your digital success.