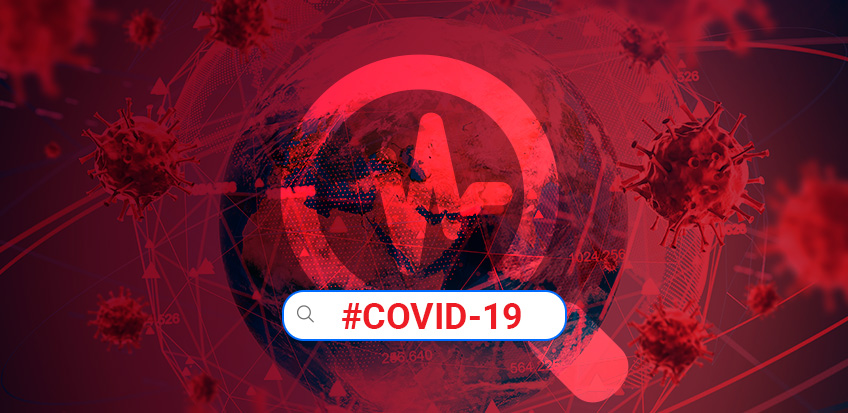 Layout2
Search Trends Fluctuations Due to COVID-19 & How to Respond
The last few weeks have impacted all of our lives in many unprecedented ways. Yes, I'm talking about the Coronavirus pandemic and how it has effectively changed how people and businesses function. The long-term effects of this development still remain to be seen, however, current trend changes cannot be ignored.
Drastic changes have taken place in how we live and work. More and more companies have eased into allowing their employees to work from home. Some have even sent their entire workforce back home indefinitely until the pandemic subsides. They have outright given unpaid leaves. But on the other hand, many small and struggling businesses have closed down.
Similarly, digital trends have also shifted. Most noticeably, internet search trends. And if you're a digital marketer like me, you'll see that there's an actionable opportunity during every trend shift.
In this article, we will provide insights into SEO changing patterns, search engine trends, trending online searches. In addition, we will provide recommendations about how digital marketers and businesses can respond to these changes.
Visits to retail stores plunge massively amid COVID-19
I feel this is a very relevant statistic to start off with. A lot of new digital trends have sprung up due to a severe limitation on physical store visits and retail stores.
As people become more and more aware of the dangers of spreading coronavirus, their visits to most retail stores have plummetted.
The impact of social distancing is being felt heavily by luxury, retail stores as people are only inclined to buy basic necessities only for now. For some time now, advertisers have been using Google Ads to understand the impact of their online advertising using store visit conversions. Advertisers in the U.S. began noticing the change early February. And by March they began collecting data which showed visits to the store were declining rapidly. Until the last week of March when virtually no unnecessary visits to the stores were recorded. A fall of 90% is seen in March compared to February as shown in the graph below.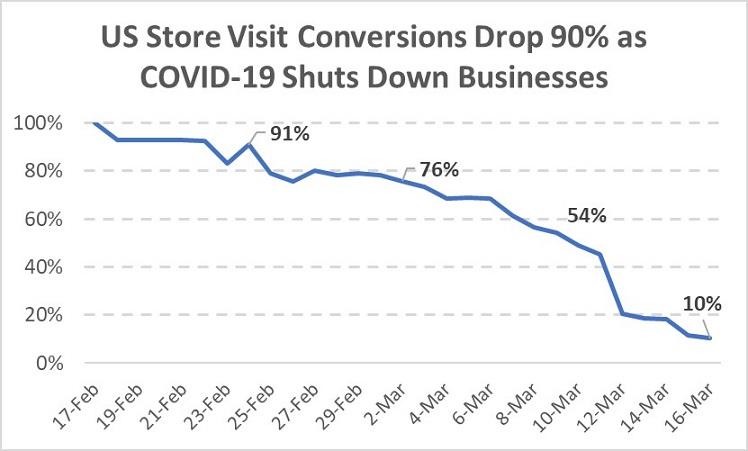 Source: https://www.wordstream.com/blog/ws/2020/03/23/covid-19-business-trends


How should you respond?
Business can utilize the following strategies to salvage market share and sales.
Design an attractive, user-friendly website for your business
Get your business on Google My Business
Strive to find ways to keep your customers engaged online – content marketing is a great idea!
Acquire your products online using Google Merchant Center
Advertise and promote your business online
New search trends during the COVID-19 crisis
With the unforeseeable rise of coronavirus spreading in all parts of the world, the spread of virus news has also exponentially risen. Terms like coronavirus and COVID-19 have inevitably been the highest searched terms in the last month and continue to be so. Similarly, other terms like "tax preparation" and "travel bookings" have also become rampant in online searches. You can use Google and see the most frequently searched queries. Some of them include:

And the trends for the following week show the following:
Marie Haynes started a trend on her Twitter account, asking SEOs if they have seen changes in organic search traffic. About 60% said they saw a decline, almost 16% reported a rise in traffic while 14% reported no observable change by mid-march 2020.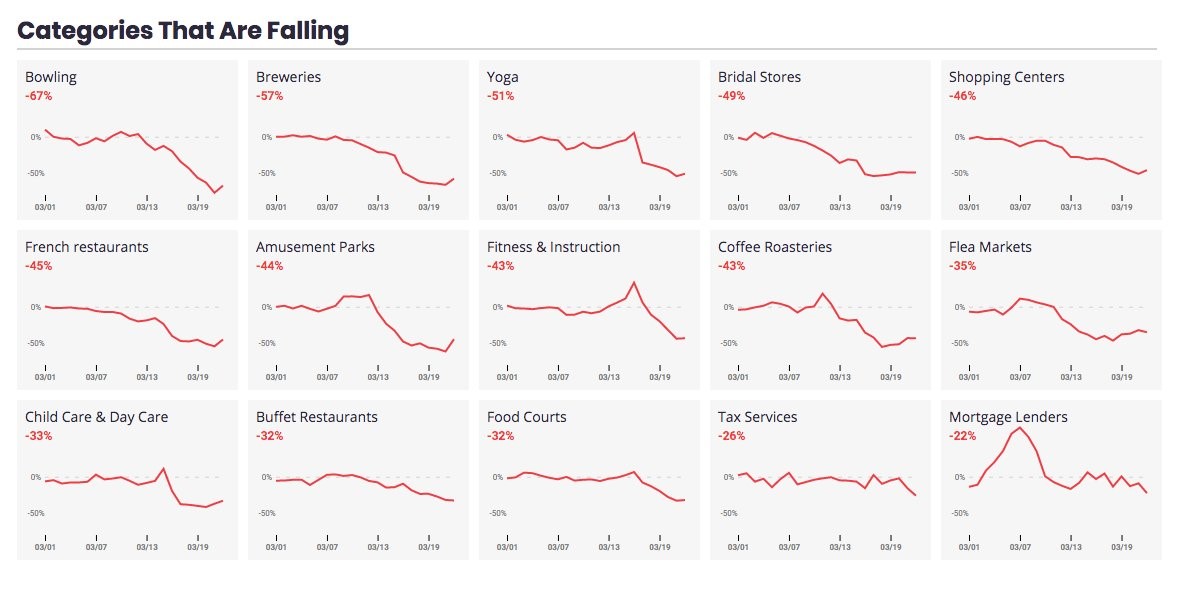 How should you respond?
Digital marketers and SEOs can respond in the following ways:
Be on a lookout for new keywords
Revisit your search term report daily
Follow trending searches for COVID-19
Mobile search traffic declines in March
While most people are staying indoors practising social distancing, the percentage of mobile searches has gone down as compared to previous months.
Even though overall search traffic has declined across devices in the United States, mobile search traffic has declined more than desktops and laptops. Maybe settling down at home for a long period of time makes people more comfortable in using larger devices.
The following image shows Google search ads traffic from the last week of February across the three aforementioned platforms.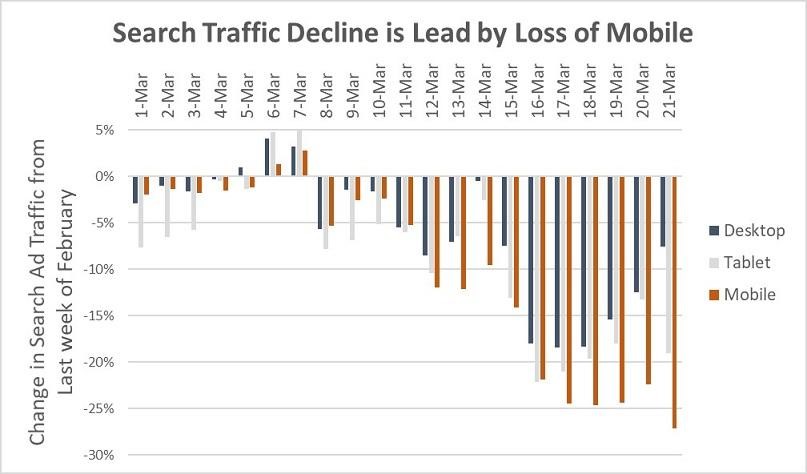 Since Monday, March 16, mobile traffic has consistently been down an average of 24% from the last week of February. Tablet traffic is similarly suffering from a 19% drop in the same time period. Desktop traffic is steadier, showing an 18% decline during the week and only a 7% decline on the weekends.
This decline is largely due to a lack of commuting back and forth from work, as well as no food and perishable food item deliveries being made.
This reaction of search trends is quite similar to the falling stock market trends.
How should you respond?
Advertisers and PPC experts can do the following:
Revisit bid adjustments on your device
Consider smart biding
The growing scope of cross-network
More people are working from home and staying off the roads and office places. They are spending less time searching for services such as shopping, travelling, movies, entertainment, etc. However, a rising trend has been observed in a few other areas. Vodafone reported it has seen a 50% rise in internet usage since the outbreak of the pandemic, COVID-19. This means that you can still reach your potential customers but you have to change your marketing strategies with changing trends.
Simply put, you should try to reach your target audience by targeting a variety of new search terms that have become popular.
How should you respond?
Marketers can take advantage of this by doing the following:
Find your target audience and customers on other networks
Do so using all available advertising tools
ALWAYS include Google Search Partners
Revamp your old ads by adding sight and sound. (Gifs and videos are now viable ad options)
Link building to promote your business
Search engines primarily use links to discover new pages on the internet. Similarly, links are also used to determine where a page should rank in search results.
Obviously, not all marketers rely on paid advertising to increase digital visibility. However, ranking a  page naturally takes time; but this process can be sped up by securing premium link placements.
High-quality links are more vital than ever before. Especially if you have a new page and you need traffic on it fast.
Take a look at a page from our website. We wanted to rank this page for the keywords "Real Estate SEO".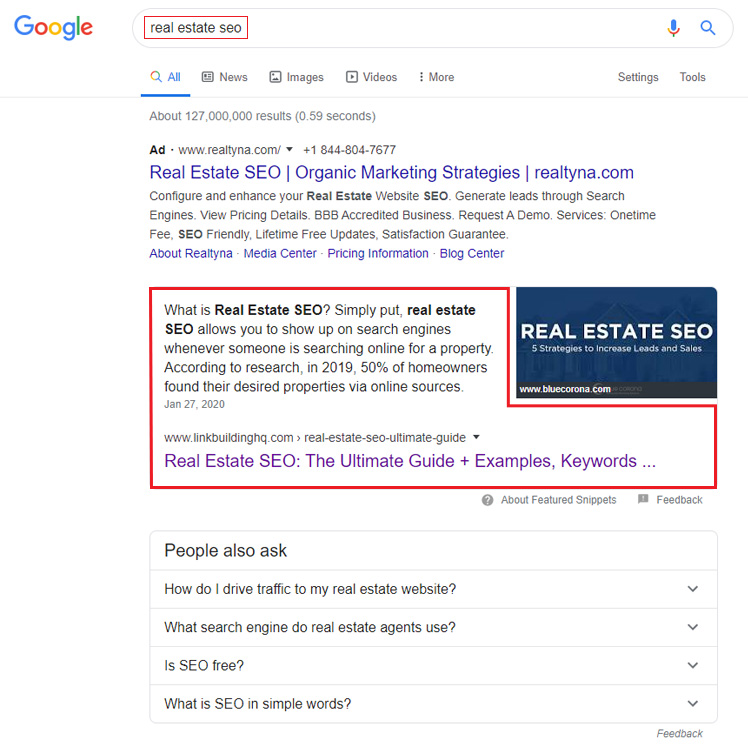 Link: https://www.linkbuildinghq.com/real-estate-seo-ultimate-guide
With just a couple of high-quality links, we were able to jump from "page 2" all the way to the very top of the SERPs; occupying the coveted "featured snippet" position.
With COVID-19 causing all sorts of trend changes around the digital realm, building high-quality links is a surefire way to ensure that your website ranks faster and higher.
Link Building Results
Once you begin receiving links directed to your website/page, you should begin to link out more. Become a part of the community that is yours and promote your brand image. Linking out more also has added benefits like:
. Higher traffic
. Positive contribution to brand marketing
. Higher page rank
. More inbound marketing
. Higher SERP ratings
A detailed explanation of link building can be found here.