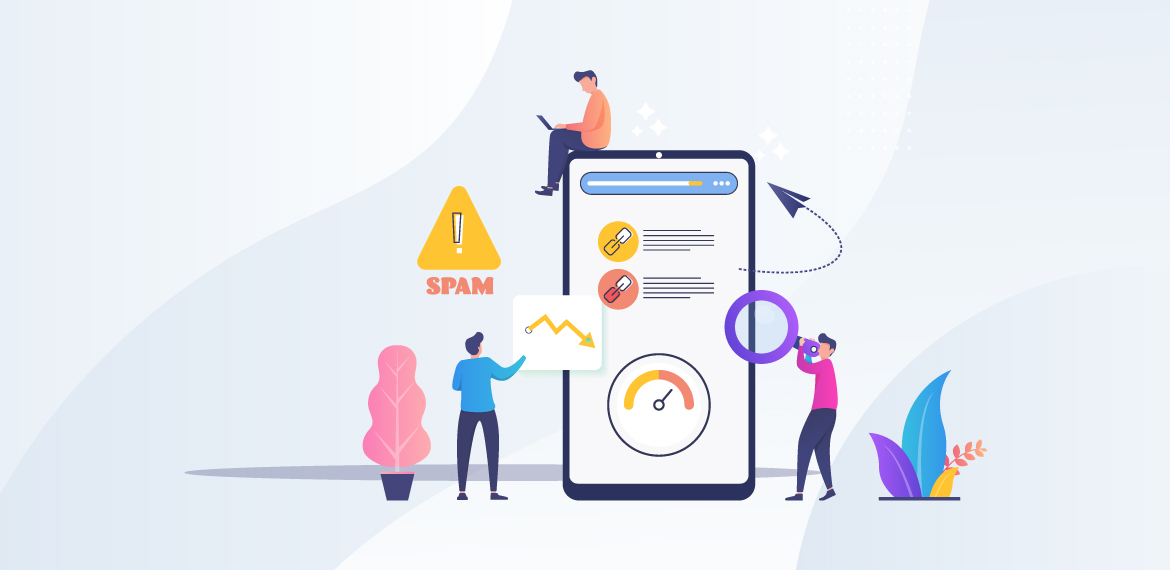 Layout2
Link Spam Update — What you need to do?
Introduction
Backlinks have been and remain the most important signal to Google's algorithms on a website's authority. However, in recent years many websites have been purchasing backlinks or using Link Spam to build their authority. Google has been quite adamant about such links and clearly states that such links should be tagged as "Sponsored". Similarly, backlinks on guest posts should be tagged as "No-Follow"
If a website puts up an affiliate link and does not tag it as sponsored, then the backlink is essentially violating Google's Spam policies. In the past, Google had people looking out for such backlinks that the website owners didn't tag properly. But after some time, Google rolled out the Link Spam Update to discourage websites from purchasing unnatural links. 
The Link Spam Update Timeline
The first Link Spam update was rolled out in July 2021. Since then, Google has been finding ways to point out shady or questionable backlinks to neutralize their signal for Google's algorithm. 
Google has been making use of SpamBrain, an AI that has been penalizing unnatural backlinks. This detection system was first launched in 2018 but officially unveiled only in 2021.
After the Link Spam update of July 2021, Google further strengthened its detection system in November 2021. 
The year 2022 also saw two updates for Link Spam. The first Link Spam update Rolled out in October, which started targetting backlinks on websites of all languages. The October update allows Google to sift out unnatural backlinks from every website, regardless of the language of the website. 
Thanks to the Link Spam update of December 2022, SpamBrain has become more adept than ever at countering link Spamming. This update has enabled SpamBrain to even target websites that is used for placing unnatural backlinks.
How the Link Spam Update Works.
The Link Spam update focuses specifically on nullifying purchased links and the websites that are offering to add backlinks for other websites for a price. It will also nullify backlinks if they aren't properly tagged or if they look like they are missing the appropriate rel attribute. 
How SpamBrain will change Link Spamming
Google's SpamBrain is trained such that it can detect and remove low-quality websites from the search results. Also, as SpamBrain eliminates the need for Google to have people analyze backlinks, the process of nullifying links will likely pick up speed. The AI is trained to point out unnatural links and then make sure that signal sent to Google for the website is neutralized. 
How will SpamBrain "Neutralize" Links?
SpamBrain AI can crawl websites to find links that aren't properly tagged or seem "fishy". Any website that isn't properly tagging its outbound links might get affected as a result too. In other words, getting link juice by purchasing links has become extremely risky.
The website will then get a Link Spam penalty, which will not only remove any ranking signals from the shady or improper links but might also bring it down the SERPs. Since no other intimation will be given, preventive measures are the only solution for now.
However, The implication can be quite severe if a website is solely relying on purchased links to rank up the SERPs.
Link Spam update has brought immediate results
SpamBrain has been seemingly quite efficient at finding out websites with unnatural links and has already started targeting them. According to Sistrix's blog, the effect on larger domains has been quite clear and can be seen on some websites from the first day when the update rolled out. 
These websites have been losing traffic since December 19 and continue to do so. Sistrix mentions femmeluxe.co.uk and wise-geek.com, and anyone can check via an SEO tool that both websites are seeing a significant fall in traffic since the link spam update rolled out.
But this doesn't mean that smaller domains are in any way exempt from the SpamBrain's penalty. A few smaller websites are also mentioned that have been experiencing the spam fall. These include:
Specscart.co.uk  

Northcentraloffice.co.uk 

Vpnoverview.com 

Fabbon.com 
We analyzed the traffic on these websites individually, and the most affected among them is wise-geek.com.

The website has been seeing a consistent fall since the last month. Upon visiting the website, it is clear that wise-geek was being used for link building, as is apparent from their articles. 
A website under watch due to link spamming does not need to do much to get crawled again. However, it is imperative that every website avoid link spamming in the future. 
How to avoid Link Spamming
The first and best way to avoid being counted amongst Link Spammers is to ensure that every earned link has the appropriate Rel attribute with it. This means that if a backlink has been purchased, then it must have a sponsored tag. Similarly, if the backlink has been made by a user then it should have a User Generated Content (UGC) tag. 
As more than one rel attribute can be added to a backlink, then it would help if the website is keeping its backlink profile as transparent as possible. Moreover, other than providing a clearer picture to Google, it has also become imperative to check each and every earned backlink.
Websites now also need to make sure that any website linking to them is not one used specifically for link building. Going specifically for valuable links will also help keep a clean image in front of Google and SpamBrain. It's important to research a lot before asking a website for a backlink.
In other words, it's important for websites to question their SEO professionals about current SEO strategies to ensure that no shady tactics are being applied. 
Getting the source of your backlink is now more important than ever. Websites that have purchased backlinks need to either get backlinks tagged or disavow them altogether.
The rising challenges for Link Building
Naturally, the Link Spam update concerns every SEO agency. However, the main effects of SpamBrain are likely to be limited to only Link Building Agencies who had been Link Spamming for their clients. 
Many link-building agencies using nefarious methods are likely to be exposed thanks to SpamBrain. But agencies who have always used legitimate methods and tactics are rejoicing. 
This is because not only is their competition getting out the window thanks to Google but they might also be seeing an influx of clients who are looking to get out of Link Spam penalties or even get into proper SEO with the right strategies. 
Moreover, this also provides an opportunity for websites to start link building with the best sources. It would also ensure that Link Building is done legitimately. Getting valuable links today has become more crucial than ever. 
However, as stated earlier, websites need to be more vigilant with their SEO agencies, especially when it comes to link building. Constant monitoring will keep them updated and formulate better tactics.
While at first sight SpamBrain might look quite alarming, the update might actually help find the right link-building agencies and ensure that Link Building becomes more legit than ever.
Most legit link-building agencies already know that it is quality content that helps secure a valuable link. 
Moreover, legits SEO agencies can provide countermeasures if websites are penalized by SpamBrain. Even though recovering from a penalty might take some time, at least it will ensure that the website in finality adheres to all the policies set by Google and is never penalized again. 
Websites penalized during with the update should get assistance from a proper link-building agency. It will also help websites climb back up after another crawl.
Going forward
Google considers backlinks as the most important factor to rank a website. Thus, the algoritm wants earned links to provide the signal. So, websites that have kept the right SEO practices will get higher rankings.
In hindsight, this could prove beneficial to SEO agencies who have a clear vision and strategy for their clients. These agencies will soon see their hard work paid off.