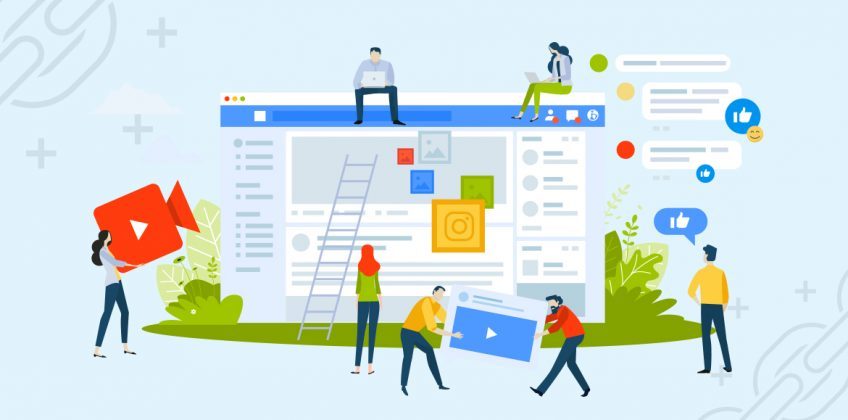 Layout2
How to Use Social Media to Earn Quality Links: A Link Building Strategy Guide [Updated 2022]
You may wonder, are social media links, SEO backlinks?
Google says no.
But, in the year 2017 a keynote discussion between Google's Garry IIlyes and SEO ERIC ENGE took place where Garry said: 
"The context in which you engage online, and how people talk about you online, actually can impact what you rank for."
— Gary Illyes
Moreover, in 2016, Cognitive SEO conducted research on 23 million social signals coming from various platforms (Facebook, Google+, LinkedIn, etc) and they found out that social signals have a solid connection with Google Ranking. In fact, the top 4 results on the google search page have a higher activity on Facebook.
This definitely gives us a hint that we should get our social media optimized ASAP!!

But, before diving in, let's see what social media backlinks are:
Social media backlinks are simply marketing your content, so Google makes up its mind quicker if your content is worth the rankings or not.
As a whole, social media can do wonders for your SEO, given the on-page and technical sides are taken care of.
Before jumping into each social media platform, here are three fundamental strategies which apply to all:
1. Consistency
Every social media platform has a different posting requirement. For instance, it would be okay to publish 10 posts on Twitter, but it would be excessive to post this much on LinkedIn. 
Here's a brief infographic by Optmonster on what should be the optimum number of daily posts,
2. Keywords:
Keywords play a KEY (a key unlocking the door to SERP ) role in the overall SEO strategy. Your keywords should define your business and what they resolve. You should use these in your social media profile and posts to attract relevant audiences.

PS: Refrain from stuffing the keywords in your content, Use them smartly. 
3. Engagement
Once you have their attention you need to engage with them so they can remember you. Now how do you engage with them? So answer their questions, take suggestions, and incorporate their feedback.

Because if you want to offer your business you need to first build trust.
Without further adieu, let's get into social media platforms, one by one. 
First up, Pinterest
Pinterest offers great SEO opportunities through boards and pins.
The well-optimized boards and pins also get indexed on Google, bringing you the relevant traffic. 
Let's quickly take a gist on how you can OPTIMIZE your Pinterest account:
1. Set up your business account:
The first and foremost tip is to convert your personal Pinterest account into a business page. It will provide you with a list of opportunities that you can use to benefit your SEO efforts.
For example: 
More Reach

Access to Analytics

More authority to your website.
2. Optimize Your Board:
You at least need one board to get started. Go to your Pinterest account, select "create board", and name it. Once you have created the board, go back to it and add in the description. Make sure you are using relevant keywords in both sections.
Now how do boards work?

Imagine you are visiting a superstore to get some groceries; how annoying would it be to find eggs and bread in the detergent's aisle? This is exactly how your Pinterest works. Your boards are your aisles, and your pins are the content that people are eager to find. So, make sure your boards and pins are very well organized.
After you are done with the board, let's optimize your pins:
a. Search Bar:
Use the search bar and type in whatever it is you are looking for, Pinterest will then provide you with a list of keywords that you can use.

c. Pinterest Trends: A tool where you can see how the keywords have performed over a period of time and also where you can compare two or more keywords

of the same niche.


d. Result-driven keywords, what is better than that!
4. Benefit your SEO with Rich Pins:  (explain)
Rich Pins include the metadata pulled from your website, syncing itself to the pins you have created on your Pinterest accounts. For instance, Recipe pins will show ingredients, cooking time and serving information on the pin itself. Find the link in the description for more examples.

Let's now explore the METABOOK or shall I stay old-school and call it: 
Facebook
Facebook is still the KING of the social media world with around 2 billion people spending 38 minutes every day, scrolling through their Facebook news feed. 
WOAH, just imagine the kind of exposure your content can get through Facebook.
Although your Facebook traffic doesn't pass the Backlink juice criteria, here are a few ways to leverage Facebook for your overall SEO strategy. 
1. Username
Selecting a name for your social media is quite a task. How can one decide the name of their business page? 
The best way to choose a username is by first using the name of the brand and then what is your business all about.
Brand Name + Business or Service type
For example, Berg's Ski and Snowboard Shop
2. Complete profile:
I. Optimize About Section: 
When a potential customer reaches your page on Facebook, the first thing they might check is your ABOUT SECTION.
This section will help the visitor decide if they want to explore more or just close the tab. So, describe your business well and add a valuable keyword to make your about section POWERFUL.
From the hours to the website and contact details, notice in the example above, how every necessary detail is given to the user. Also, the keywords are aptly used in the description. For example "supermarkets in Karachi".
II. Optimize profile and cover photo: 
The first glance at your profile can be your "Conversion at first sight". Make sure you:
Use an HD profile and cover picture

Use your brand's color palette. 

Use the right size dimensions for these images, so that they do not pixelate or get cropped.

Use keywords (primary or secondary) in your captions to captivate the attention of your visitor.
3. Optimize post 
This is how you can Optimize your posts on Facebook
Engaging content

Appealing Graphics

Smart copies

Link to your site and

A compelling CTA
Protip: Use the most important keywords in your captions and copies for better reach! 😉
4. Closed groups
Facebook closed groups are very active and that being the case, you have a hell of an opportunity to share a piece of content on these groups and initiate a conversation, engage members, and make friends. 
Tip: Subtly drop in the links to your website wherever you observe a chance to swoop in!
Engagement= Traffic= Leads!
5. CTA on the Page:
Facebook lets you set a CALL TO ACTION button right beneath the cover photo that allows your visitors to take an action instantly.
You can choose from a list of buttons that this platform offers and generate leads
6. Add business information
Now, what's left? All the necessary information about your business such as:
Hours

Address

Phone number

Website

And much more
Instagram
The land of creativity and obsession, where people tell their stories using filters and lenses.
Here is how you can optimize your STORY:
1. Optimize your profile, first by
A.

Switching to professional/business account:
All you need to do is go to settings select account and then choose the account type. Go to settings> select account> switch to a professional account. After that, select the category that best defines you, and TADA!
Then, incorporate keywords in your username and display name if you haven't already. 
Next,
B. Add your business address
C. Add Your Contact Info: 
D. Your website/landing page link Website (example) 
E. And lastly, a suitable CTA: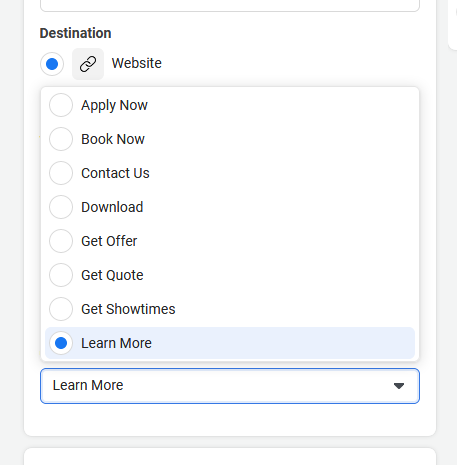 If someone searches for "Juicy Burger", they will find you if you have optimized your account with the right keywords like "burger" or "juicy burger" in your username, display name, captions, or hashtags. 
Pro tip: Watch out for the suggested keywords while typing the query. Another pro tip, you can filter it out by keyword, accounts, tags, and places.
3. Add links to your IG Stories
Instagram allows you to send traffic to your website through IG stories. You can add a swipe up link or embed a link to direct the traffic.
Swipe Up Link:
Embedded Link:
However IG stories only last for 24 hours, but you can keep them forever on your profile by creating highlights.
Instagram SEO Tricks Revealed to Grow Faster
4. Use Alt Text
You can increase the accessibility of your Instagram profile by adding alt text, under the advanced setting when creating a post.
It will allow the visually impaired community to consume your content by listening.
And lastly, a place where we get all the gossips from..
Twitter
A lot of chirping here. You know what to expect when more people are talking, and few are listening.
But if your ideas can BREAK THE GLASS CEILINGS, you can make your voice heard. 
Here are a few ways you can optimize your TWITTER
First up,
1. Optimize your profile
This would include choosing the most relevant user name, mentioning the link to your website in the bio, and writing a description that would describe you or your business in 140 characters.

2. Look for the HOOK
Look for the conversations that are related to you or your business and provide valuable input that tempts the reader to know more. 
 You can search for those threads by either using hashtags or by keywords. Not only this you may also filter the threads by latest tweets, profiles, photos, and videos
Then, drop in the bomb by providing the link to your site where they can find more about your business and the problems it solves.
Lastly, stay in touch with the trending conversation and participate as much as possible. 
If your site is still not generating your desired results, here are two strategies to boost your social media optimizations
Two Ultimate Strategies To Boost Your Content Still 
As good as organic traffic may be, it still has some limitations in terms of reach, engagement, or leads. 
Number 1: 
Influencer Marketing:
Doesn't matter if it's Facebook, Instagram, Twitter, or youtube; you can always rely on people with shiny profiles and blue ticks AKA influencers. 
The audience doesn't only listen to them but also blindly trusts them. So, all you have to do is get these influencers on board to promote your product or service and see your business Taking Off.
Secondly,
Paid Marketing:
Paid Marketing is a way to advertise your business to a wider set of audiences, which you cannot reach organically.

One of the many benefits of paid advertising is you can reach people based on their demographics, psychographics, interests, or behavior. 
Conclusion
People who have previously been exposed to your brand are more likely to remember it and interact directly with your business the next time.
To wrap it up, make sure you:
Create high-quality content consistently.

Viral content is even better

Optimize your content for each social media platform

Keep your audience engaged 
And witness a boost in your overall SEO Strategy.