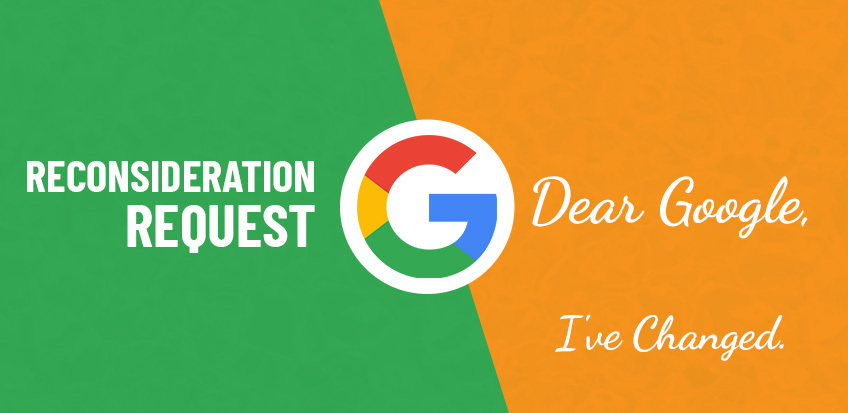 Layout2
How To Submit A Reconsideration Request To Google After A Manual Action Penalty
Looking to submit a reconsideration request to Google because you received a manual action penalty? Well, you are in the right place then. If you want your reconsideration request to be accepted on the first go, keep reading. Our magic-formula shows you exactly what to do, step-by-step, to get a manual action penalty lifted.
If you want to brush up on manual actions, then check out this video. It explains the differences between algorithm updates and manual actions, tells you what type of sites get hit by manual actions, and shows you how to recover from them.
The 6-Step Process
To submit a successful Google reconsideration request, you have to blend the six secret ingredients: homework, fixes, apology + assistance, supplementary material, future plans for the website, and the actual reconsideration request. Ready? Here we go!
Homework
The first step is to analyze why Google has penalized your site. For this purpose, read their manual action email carefully that you have received in your Google Search Console (GSC).
The email consists of two parts primarily:
Description of an issue
"Sample list" of URLs where the action has been applied
Remember, it is just the "sample list." It means you have to do an in-depth audit of your website to identify every instance of the mentioned issue. In case you cannot do it by yourself, then hire a professional specialized in penalty recovery.
Fixes
After identification, it's time to fix these issues. Like we mentioned above, do not limit this process to sample URLs and remove all instances of the mentioned issues from your website.
"Identification > Issue fixing > Reconsideration request"
Now let's move ahead to write a result-driven reconsideration request to Google. Click the "Request a Review" button under manual actions to access the reconsideration request form.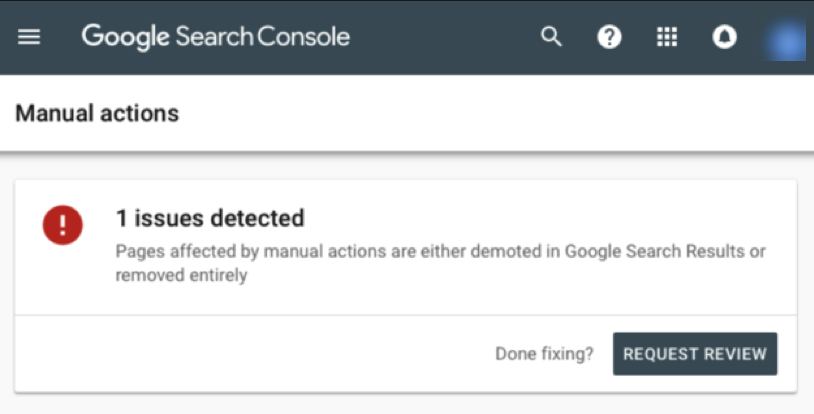 Apology + Assistance
A good apology means letting the other person know you are guilty of what you did, stating an honest reason for your behavior, and taking an optimal action to fix your mistakes. The same goes for a reconsideration request. First, own your mistake and let the Google Webspam Team know you understand that you violated Google's guidelines. After that, show them in detail what you have done to fix these issues.
Supplementary Material
If you could provide any supplementary material, it would be helpful for the team and increases the chances of reconsideration request approval. You cannot attach images, but you can add a .txt document. You can also paste image links to Google products such as Google sheets (this increases the odds that the Webspam team will check out those links). Google's Webspam Team won't click on any links to non-Google products, so there is no reason to add them.
Plans For The Future of the Site
You should state your practical plan for the future of the site. This section lets the team know you are serious regarding manual action and have formulated a strategy to avoid such issues in the future. Keep it brief, but it helps make the request stronger.
A word of advice: the best sites are those that focus on improving their EAT (expertise, authority, and trust). This ensures they not only stay safe from manual penalties, but also continue to rank well on SERPs. Read our detailed discussion on EAT here.
Make the Reconsideration Request
This is what we've been working towards. By following the aforementioned steps, you have laid a solid foundation, and now is the perfect moment to make the request. In a polite tone, request the team to reconsider indexing your site and lifting the penalty.
Stay patient and wait for Google's response in your GSC email or manual action viewer. If you have implemented the above-mentioned plans, then the response will be positive. By the way, you may get confused by the email because it often includes ambiguous terms such as "adjusted or revoked" in their response.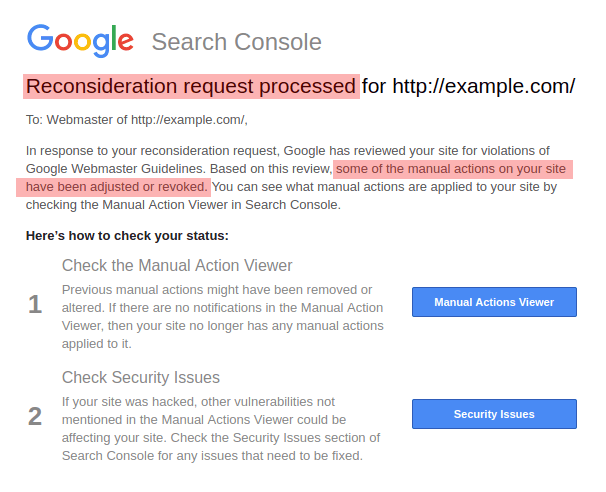 The best way to confirm the request status is to check the manual action viewer. If you see "no issues detected," then you're golden!
You should give your 100% in compiling a reconsideration request to Google. Getting a manual action penalty lifted is not impossible, especially if you've made a solid case that you're serious about fixing these issues and won't make these mistakes again. The more time your site spends deindexed, the more traffic (and money) you'll lose. I hope this guide helps you with your reconsideration request, and if you have any feedback, let us know in the comments below.