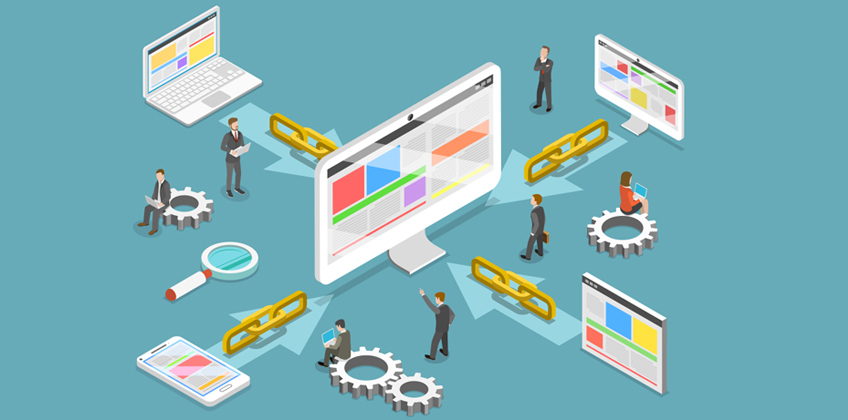 Layout2
10 Questions to Ask Before Hiring a Link Building Agency
You already know that quality link building helps:
Boost traffic for your online business
Builds important connections for site's credibility and trust
Helps with technical SEO and improves your chances of ranking on SERPs
By securing and including hyperlinks of other relevant sites on your own, or vice versa, you're establishing a connection to lead the users back and forth in their user journey. If done well, this creates credibility for your brand as the users will perceive you as an authority that really knows how to help them out with their queries.
Quality link building helps establish higher authority for your own site and brings in referral traffic, which does wonders for your brand – well beyond just SEO. Link building also helps you diversify the source of your visitors because now your site is not dependent on just search engines for traffic, but can also get quality traffic from social media and other platforms, too.
This is where the importance of a link building agency comes in and how you should go about hiring the best white-label agency for the job.
QUESTIONS TO ASK WHEN HIRING A LINK BUILDING AGENCY
1. EXPERIENCE AND KNOWLEDGE – ARE THEY FULLY AWARE OF THE COMPLEXITY OF THE SYSTEM?
Your target should be a link building agency that knows the ins-and-outs of the system with a sound knowledge and clarity of each factor that comes into play. This is highly essential since Google's algorithms get refreshed and renewed quite frequently. Only if the specialists carry the right insight and experience in this department can they use their knowledge and experience to adapt to newer changes.
How to check for that? Go through the records of their clients, see where they won their backlinks and how they're ranking today.
2. RESOURCEFULNESS- DO THEY HAVE SUFFICIENT TECH AND METHODS TO BACK THEIR PROMISES?
This is a no-brainer and one of the first questions your company needs to ask any prospective agency. The agency should be willing to give your firm an overview of their in-house technology and evaluative methods and tools. These tools will determine how well they can perform within their capacity.
Good crawler software at the hands of the agency will indicate how frequently they're evaluating the online web systems. Similarly, decent backlink tools are also very relevant to link building and you need to check-in with the agency regarding that as well prior to hiring them. Thus, when it comes to resources and the tools, the agency should not lack in the slightest.
3. TRANSPARENCY- HOW REGULARLY CAN THEY REPORT ABOUT THEIR PROGRESS?
A good link building firm has a flexible reporting schedule and has reports prepared well in advance for any evaluation process by the clients.
They should be honest and trustworthy in the sense that they shouldn't hide any bad news or set-backs that they may be facing. If they're forthcoming with their faults, both the agency and client can figure out a plan to correct the mistakes and alter the timeline of the project accordingly. Thus, transparency is key to a good relationship between the agency and its clients.
4. CREATIVITY- DO THEY THINK OUTSIDE OF THE BOX?
One of the most important traits of any link building firm or agency should be the capability of flexing their creative muscles. Outreaching requires a systematic approach, with every extra effort getting you closer to a link placement. Since each piece of content is varied in its tone and the information, the agency should be aware and be constantly thinking out-of-the-box. This requires opting for alternative methods for link building via social media and blogs. That's why your perfect link building partner should be capable of constantly evolving with the newest trends.
5. ADAPTABILITY AND CUSTOMIZATION- CAN THEY ALIGN TO YOUR COMPANY'S PERSPECTIVE?
Every business has a different notion of success and different goals to achieve. A link building firm is only good for you if it can align to your company's aims and work within the boundaries and budget you've established for them. See if they'll customize to the way your company handles things including performance analysis, communication channels and work ethics. It could even apply to the more obvious and mundane factors like amount of work set and time allotted to carry it out.
6. COLLABORATION- IS THE TEAM COOPERATIVE?
How soon do they respond to your questions, how helpful are they, and do their clients always end up being satisfied? Talk to your prospective team and find out how they approach the process. A quick chat can answer a lot of questions you may have.
7. PERSPECTIVE- CAN THEY HELP WHEN IT COMES TO DEVISING PLANS?
If you're a novice when it comes to link building, you need to know if your agency can fill in the knowledge and experience gaps for you. Will they be a good sounding board for new ideas and perspectives? Will they hear you out?
That's why the best agencies are those that bring in a perspective to the table that you may lack (for now). This comes from the years of experience the agency has worked with other clients and a sound knowledge of what's hot in the market at a given time.
8. CONSISTENCY- HOW STABLE ARE THEY IN THEIR APPROACH AND PERFORMANCE?
Ask yourself if you trust this agency to have your back. Would they, for example, replace a link if it is removed by a third-site? Would they give you a discount? Would they show you their performance transparently?
Link-building is a process that takes hard work, dedication and above all persistence throughout its long cycle. You need a reliable agency that's willing to stand through every thick-and-thin of the company's situation and bring out the best results for each case. Progress is a continuous procedure and the agency should be aware not to rest on their laurels.
9. LEARNING AND GROWTH- HOW ARE THEY STAYING UPDATED FOR FUTURE PROSPECTS?
In the ever changing landscape of search engine guidelines and algorithms, there's a need for every agency in that department to stay up-to-date with the latest trends and fashions for the company's success. There's a challenge involved here, too, which calls for the agency specialists to adapt and grow along as they continue in this department. Talk to the team and find out how they've changed their processes to stay at the forefront of link building.
10. EAGERNESS- HOW ENGAGED ARE THE MEMBERS OF THE AGENCY IN YOUR PLANS?
Above anything else, a team of passionate individuals who truly care about the company's views and the mechanisms of link building itself is hard to match or rival. Carrying a sort of keenness towards a project will definitely allow the agency to provide the best of their effort and energy towards the service compared to one that feels like they have an obligation to carry out the process.
At the end of the day, we are all people who are doing something they love. That is what your company should look for as well: a team of talented individuals, who are truly engaged in their work.
CONCLUSION
Link-building is essential if any business in the SEO landscape aims to flourish. Not only does it build healthy relationships between the company and its users, there's also a great inflow of new visitors and a great DA to back it up. With that said, utilizing the link-building strategy well requires hiring a self-sufficient, dedicated, driven and reliable agency that understands and respects the client's objectives and can bring out the best in everyone.