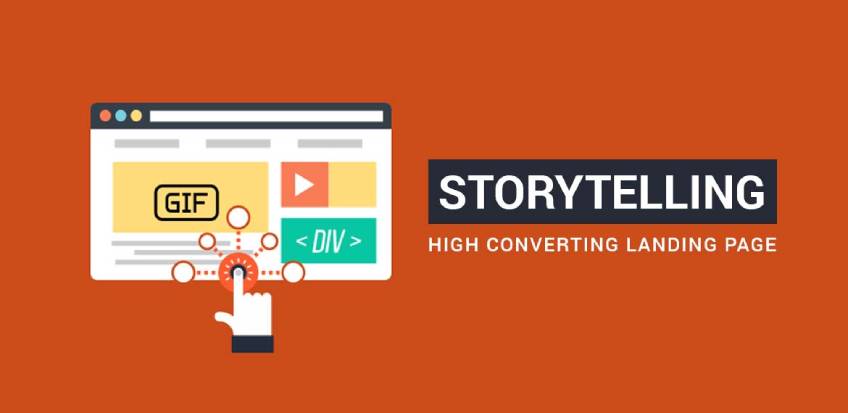 Layout2
Storytelling for a High Converting Landing Page
The word "storytelling" has been buzzing everywhere around us, and experts in marketing are emphasizing heavily on its usage. 
But, let's be honest, it is very confusing to understand its core definition, purpose, and use on various mediums such as a marketing landing page.
So, let's first look at the description of the word 'Storytelling.'
What is Storytelling?
The art of conveying events and experiences in words, images, videos, or their combination is called storytelling.
Over the last few decades, it has been observed by researchers that the attention span of the audience has decreased drastically. 
This is one of the main reasons content creators are obliged to make content that engages first and sells later. 
So, how to create such content?
Answer: Storytelling
Storytelling is a powerful tool that can help businesses gain more reach and generate more leads. 
One may ask, how is this even possible? Right. 
Stories are like frontline soldiers who are ready to target the right audience.
Moreover, stories have an innate ability to connect, engage, and turn a potential customer into an actual customer in no time. 
Storytelling on a Landing Page
To understand how storytelling can change the game of a landing page, we first need to understand what a landing page is.
A landing page is an isolated page specifically used for marketing or advertising campaigns. The core purpose of this page is to convert leads into sales by calling them into action. First, get the attention of your audience, then convert them into PAYING CUSTOMERS. 
For landing pages to do their jobs efficiently, storytelling is a very influential tool. 
Although storytelling is a centuries-old method, its efficacy in web and digital marketing has been recognized in the recent past.  From traditional advertising to digital and content marketing, storytelling has left a positive impact everywhere.
How can storytelling on your landing page help the audience?
Storytelling does not only help advertisers and marketers with great leads, but it also helps the audience to explore the solutions to their problems.
Storytelling Tools for Your Landing Page
1. Graphics
"A Picture is worth a thousand words." 
The most convenient yet most effective way to integrate stories on your landing page is by using images.
 People tend to comprehend visuals much quicker than text, which is why stories, data, or any information presented in the form of pictures get more attention.
You can always add short text descriptions with images to convey the message.
2. Videos
Video content gives your landing page a boost of engagement, and that is why content creators should create the type of content that can get viewers hooked within the 3 seconds.
These 3 seconds will decide the fate of your content strategy.
3. Words
Although images and videos are considered powerful when you need to grab viewers' attention, words play an equally vital role. 
Primarily images, pictorials, videos, infographics, and animations have short text descriptions to support the visual with its explanation.
Interestingly, words can also stand alone and create a meaningful story for your landing page on their own.
Mix it up 
The most effective storytelling method is to mix and match the approaches given above and create unique yet relatable stories. 
For example, many marketers deem that pictures work best with short text descriptions. Those descriptions will help readers to understand the message unambiguously. 
Similarly, including concise text as the video's copy in the various sections can help the viewers with better comprehension.
How to create a POWERFUL STORY for a landing page that CONVERTS:
The human mind is wired to love and pay attention to the stories around them, and this is why we remember the stories a lot better, and you would wanna make your landing page a memorable one! 
Just like how children learn poetry and stories a lot quicker than the boring text in the book.
Now, let us look at how you can proceed with curating a story that has the power to MOVE. We have divided the procedure of storytelling on a landing page into three simple sections; the opening scene, the build-up, and the happy ending.
1. Opening Scene
The beginning of your story will act as the hook for your readers to scroll down till the end.
The opening scene of any story acts as a base to retain the reader. 
To master the art of creating a solid baseline, one should start with a Hero Scene. The Hero scene sets the theme, evokes emotion and introduces the character (hero).

Some Heroic elements are:
1. Hero Banner
The Hero Banner can have a graphical image, a video, or any solid background which reflects the THEME. 
In the hero banner, you have
2. Hero Title/Tagline
Hero Tagline is the opening line, where the hook starts.
'Woah, I wonder if this story gives me a solution to my problem" – your reader.
Anytime an individual visits your website, your tagline should immediately make them wanna read more and more.
You may start with a question, stating the problem and then address the solution.
3. Hero Copy
Your Hero Copy is the supporting words that further engage the users with some information about the tagline.
Hero copy will help viewers understand the concept of the tagline, accompanying graphics, and other details of the story.
4. Characters
What are stories without characters, right?
And your story will mostly have your user as the hero of the story.
For your audience to relate to your story, you need characters. There are two ways in which you can characterize:
Direct characterization: To

tell

the readers about the character's traits, behavior, or actions.
For example, Steve is an honest and truthful person who cares for everyone around him.
Indirect Characterization: To

show

the readers how any specific character speaks, acts, or thinks. Not only this, but how people respond to his actions.
For example, Steve always made sure that all his employees were getting paid on time. In fact, he is the last one to withdraw his paycheck.
Stories that create engagement use indirect characterization. In the case of web landing pages, your brand, your customer base, or your reader can be characterized.
Nike Example
For instance, Nike is a brand that always sells emotions using characters. Take a look at the example below where Nike is not telling but showing: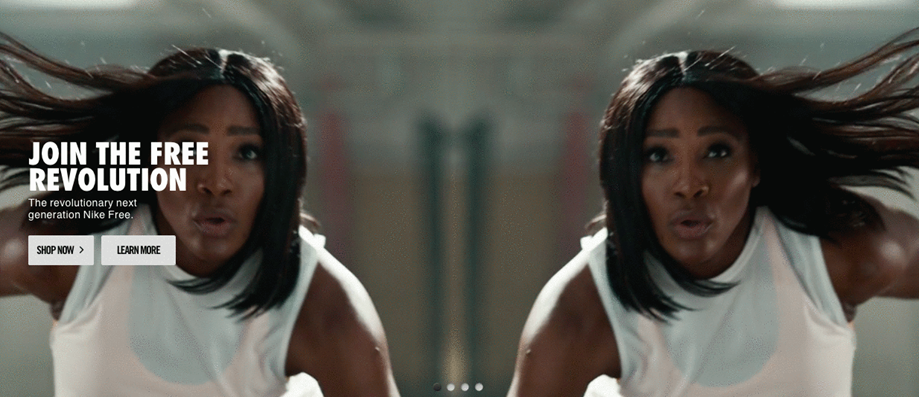 All the great athletes shown in the video are indirectly characterized. These leaders are not just talking about their struggle and success but showing what it takes to reach the top of the game.
Nike has targeted the emotions of aspiring athletes and community leaders who want to become a part of their revolution.
5. Evoking Emotions
Stories that touch the hearts are the stories that evoke emotion. Read a copy below:
"Are you also tired of copies that do not convert? If yes, KEEP READING.
This evokes an emotion of frustration and exhaustion.  By reading this, you would immediately start questioning yourself and see if you can relate to the given question; this is precisely how we can trigger the emotions of the viewers.
Remember, people always want something to relate to themselves with.
6. Set The Theme
Theme? What, why?
The theme is defined as the tone and genre of your story.
For example, do you want your story to be educational or do you want it to be funny?
Can you guess what kind of theme they used in the example above?
7. Early CTA
CTA at the beginning of the story? Isn't it too early?
The answer, my mate, is No. Some readers may not need to read the whole story as they already are hooked when they land on your page. All they are looking for is a call-to-action that gives them the solution.
This is the reason most landing pages have two CTA buttons: one at the beginning of the story and one at the end.
Hero Example 1
To sum up, the opening scene of the storytelling, let's discuss an example.
Hubspot's landing page has an enthralling opening. It has a powerful tagline paired up with a strong copy, graphics, and a CTA.
Hero Scene shows a glimpse of the tool (which the Hootsuite is offering) with a copy, which suggests ease of use for anyone who feels they cannot do it.
An empowering emotion with an inspiring theme. 
Ending with a CTA that offers something free for the Hero to try out. 
Jackpot!
If not, let's make things more interesting with the build-up..
2. The Build-Up
Your audience may hit the CTA or want to continue with the rest of the story.
At this stage, your audience is thrilled to know more details about your business and how you can help them with the challenges they are currently facing. Now, you need to build up the story and be at par with their expectations.
There are many ways in which you can build on the story. Whichever way you choose, make sure you are following the chronological sequence so that your story can sound coherent and cohesive.
Now let's take a look at a few details that you can cover in this section as per the needs. 
Conflict/Resolution
Stories are dull without suspense, right?
To balance your story with the right amount of spices, it is crucial to talk about the conflict that your business is aiming to solve for your potential customers.
In fact, some content experts believe that sometimes it is helpful to exaggerate the problems rather than solutions in your story so that you can actually create a need for your business to meddle in.
Once the need for a solution is created, we need to immediately indulge the audience into a solution, which is the perfect concoction of convenience and ease. 
Elements for Solutions
There could be a number of ways in which you can propose the solution on your landing page, solely depending on the type of business, the question/ tagline you have devised, and the concept you are striving to deliver.

We have gathered some of the possible ways in which you can deliver the solution; let's take a look:
a.

USP: (Unique Selling Point)
Talk about how your services or products are different from the competitors' and how you can add value to your consumer's life. 
The landing page of Tushy has some bomb graphics and copies. The combination of cool graphics and intelligent yet funny copies highlight their USPs and compels you to read more.
b. Features
"Tell me more."
If you go to a market, you are most likely to ask shopkeepers this question. Of course, the more we know, the better decisions we can make.
Hence, it is pivotal to accentuate the features of your product or service.
Here, take a look at how Loomly has highlighted the features using competitor's analysis:
What an excellent strategy! It not just highlights the features but also educates people on how we can bring a lot more to the table than our competitors.
c.

Feedback/Testimonials
Traverse people through the experiences of your past/existing clients. It builds trust, authenticity, and authority. 
Take a look at the landing page of Typeform.
Typeform has featured people from various business backgrounds and enlightened on how they have helped these diverse businesses achieve their goals.
Not only their experiences, but Typeform also shared a brief profile to really develop trust with their readers.  
d.

Plans
"Okay, cool features, but what is there for me?"
This is where you introduce the exceptional monthly/annual plans you have prepared beforehand.
It can vary according to the type of business, size of business, and the services your customers choose.
Here is an example of how you can show the plans on your landing page.
This snapshot is from the landing page of Hootsuite, where they have displayed various plans according to the business size and the number of individuals who would need access to their service.
Not just this, but they also wrote descriptions beneath the plans, which educate the readers about which is the best plan for them.
Lastly, take a look at the CTA under each plan type.
"FREE 30 DAYS TRIAL"
Who would miss this, right?
The Chronology
First and foremost is to align your story in a step-by-step method called the Chronology.
Chronology is the sequence that your story follows solely depending on the type of business you own.
Experts suggest that the development of the story should be in a chronological manner. 
For instance, if you have begun your story with a question or a tempting statement, it would be advised to first build on the problem, narrate how you can solve them, and then propose the customized solution that you will create for them.
Wistia's landing page presents one such example:
There are honestly several ways in which you can craft your story in alignment with the objectives of your business and the goals of that particular landing page.
Shall we explore a few examples?
Let's Go! 
1. Customer Journey
One of the best ways to write a story is by telling your customers what kind of journey will they have with your product or service. Class Creator's workflow example shows the number of steps with approximated time each step will consume for better clarity.
2.

 

Delivery Process
If you have a delivery business, it is an excellent idea to visually present your delivery process. Take a look at the Home Loan Guru's landing page where they are showing how and what will they achieve at the end of the delivery process.
3. Problem Solving
One of the simplest ways to share a story is by solving your user's problem. In this example, Hello Tushy has brilliantly used its USPs to solve many problems. "SO STOP FARTING START GIFTING"
And this landing page addresses the dilemma just RIGHT!
4.

Product Demo
Since purchasing a car requires one to research a lot, that is why detailed videos (emphasizing the features) would work better. The goal is to educate people on the features of this car, Honda CR-V
"And they lived happily ever after.
We all love to read a conclusion where everybody has a huge smile on their faces. Don't we?
To achieve the happy ending of your story, you can indulge people in the CTAs that would make them scream inside their heads.
"YES, I AM IN" 
Let us explore some great examples of CTA buttons.
We all vehemently love free services, don't we? Here is an example of Spotify's CTA button. 
According to research, around 41.5 million people in the USA are accessing the FREE VERSION of Spotify.
Good work, Spotify.
This CTA here evokes curiosity, right? Here your matches are just a tap away. Start exploring without creating an account.
Key Takeaways
If you are a fan of watching TV or reading novels, you know that you will not stop binging if that show is keeping you on your TOES. Similarly, if your story is engaging enough, your audience would want to stay with you till the end and well, if your readers are buying your story, they are also buying your product or service. 
Moreover, a high conversion rate is always the goal, and storytelling can help elevate it. Whether it is a new marketing campaign or a landing page, a good story has the power to create new connections, enhance the existing ones, and bring back the ones who left you once. 
But, remember to commit to what you can really deliver, don't go over the board just to make a sale.