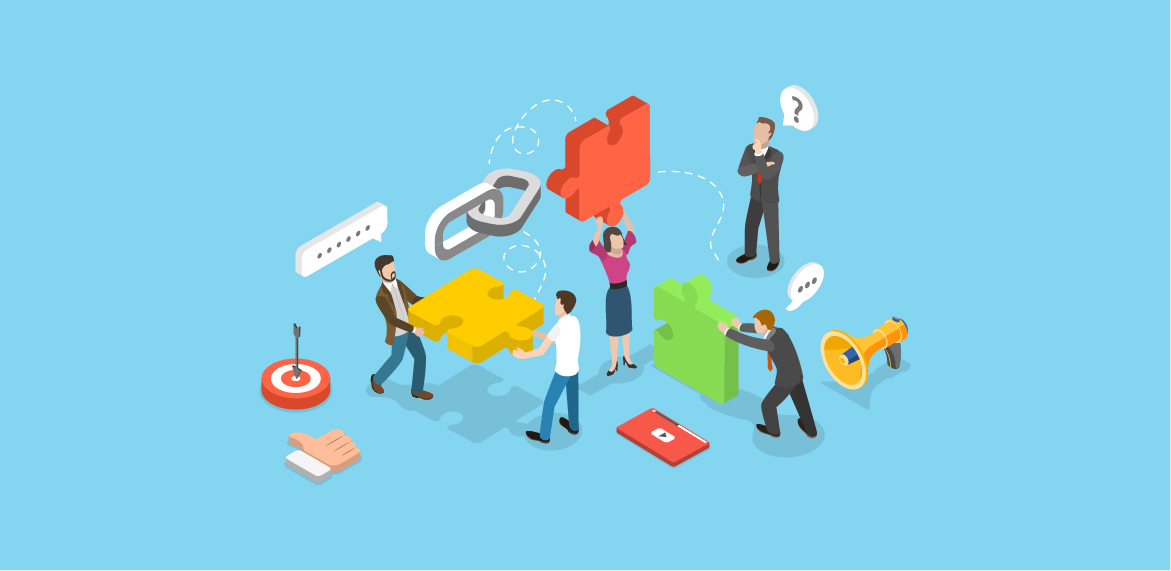 Layout2
7 Link-building Challenges and How to Overcome Them
While Link Building is definitely not an easy task, there are a lot of challenges that can be daunting for SEOs. Backlinking can be quite a tedious process and one that literally lasts for months on end. Moreover, the results of your link-building efforts don't show up overnight either. 
To better elaborate this with an allegory, the website is a plant that needs SEO and Link Building as Sunlight and water to grow up in the forest of the internet. The link-building importance of SEO is quite apparent from this allegory. However, link-building challenges, nonetheless, can be quite difficult to overcome. 
Why is Link Building Difficult?
One of the major reasons why white hat link building is a challenge is that it requires your website's backlinks to be present on other websites that are fully trusted by Google. Moreover, Google also forbids you to pay to get these backlinks. In such an event where Google does find out that you paid to get backlinks, your website is immediately hit with a Link Spam Penalty. 
So, in order to build links legitimately, it is important that websites voluntarily put up links to your website without any monetary compensation involved. The best reciprocation you can provide in these circumstances is to link back. 
In case the external website trusts you completely, it may provide you with a do-follow backlink, which means it will pass its own authority to you. Do-follows from high authority websites are often considered crucial for you to climb up the SERPs. But link-building challenges only start from here. 
Following are some of the most challenging obstacles you might face when you start link building. 
1. Coming up with an Outreach Pitch
One of the first challenges that you'll likely face when you start link building is coming up with an outreach pitch. While beginners might feel like finding relevant websites to outreach is itself a challenge, if you have been in the SEO game for a year or more, you will know that winning a reply over an outreach email can be ten times tougher.
Finding relevant sites that publish content on your niche merely requires a bit of searching on Google. Simply type your niche and add the word Blog in inverted commas ("). You'll get a list of blogs pertaining to your niche. From there on, all you need is a set of standards to shortlist the website you see on the SERPs. Following are the most basic factors you should be looking for in a website you plan to outreach.
The website should be using white hat tactics and adhering to Google's SEO Policies. 

The website needs to have content that is ranking high on the SERPs

The website needs to have Good Domain Authority (DA). 
Do note that the above points are the most basic ones, so it's best to add to the list and further screen for only the best websites to outreach. Also, keep in mind that the difference between your own website's DA and the ones you outreach to isn't too much. For example, if your website has a DA of 15 and you outreach a website of 90+ DA, then there is little chance you'll receive a reply.
How to Outreach for Guest Posts?
The first task at hand for outreach is getting the email of the person who is responsible for content publishing on your shortlisted website. With tools like Hunter.io, you can easily find out the contact email from a website. 
The main goal of outreach is to get in touch and start a conversation with the content representative of the website. Thus, it is important that the tone you use is formal yet polite and conversational. You can devise your email into three paragraphs, each pertaining to one idea. 
You can start your outreach email with the first part complimenting the website's representative on their content, even pointing out some content pieces that you found most interesting. 
The second part of your email is your own introduction and the website you represent. Here you can also talk about your current standing on Google and the type of content that you usually go with in your guest posts. 
The third and final part can be about you offering up your content to be posted on the website. This part should be detailed and should also outline the benefits the website will reap by posting your content. 
If all goes well, you should get a reply from the website within a few weeks at most.
2. Creating Guestposts
Creating Guest posts can be quite confusing, especially if your end goal is to earn backlinks. 
A guest post from you to an external site is basically free content for the external site to publish. However, this content should be of impeccable quality such that it will create value for the external website too. The external website will be using your content to rank up the SERPs, whereas your website will be earning backlinks.
How To Ensure Impeccable Guest Posts?
While we also have a complete article on Mastering The Art Of Guest Posting For Powerful Link Building, we'll go through a few aspects that your guest posts absolutely need. 
Firstly, your guest posts should be based on Double-EAT. Following Google's Quality Rater guidelines will provide you with a roadmap to create content that ranks effortlessly. 
It is also important to keep the helpful content update in your mind as you create a guest post. Guest posts focused on helping your target audience are more likely to rank up as well as provide you with traffic than a simple press release only highlighting your website's achievements. 
3. Quantity and Quality of Backlinks
When planning out your backlinking strategy, you also need to specify the quality and quantity of backlinks you're looking for. Acquiring high-quality backlinks can consume a lot of resources and time too. However, they are worth it, as according to Adpearance, a single high-quality link can be worth more 100 backlinks from low-quality resources.
Most backlinking strategies are solely focused on ranking up the SERPs, which further makes it difficult to set a specific goal for quality and quantity. However, with a set measure for backlink quality and quantity, you get an apt idea of how your website's SEO should improve within a year of your backlinking efforts.
How to decide on the Quantity and Quality of Backlinks
The ideal way is to get extremely SMART when setting your objectives of backlinks quantity and quality. To better elaborate:
Specific: A specific DA range needs to be set for the backlinks that you would like to acquire for your website.
Measurable: A quantitative number of backlinks need to be set for your backlinking strategy.
Achievable: The number and quality of backlinks you're aiming for should be a challenge but not one that could be considered impossible. 
Realistic: Your DA aims should be realistic. It would be unwise to seek to get a do-follow link from a 90+ DA website if your own website is new and has a DA of less than 20. 
Timely: A time range needs to be specified for your backlinking strategy. This figure is usually within a single year.
4. What platforms to use for your Backlinking Campaign?
A good backlinking strategy will always outline different platforms that are being prioritized to earn backlinks. Of course, your social media handles and website is a definitive yes. But the list of platforms to use for your backlinking campaign may also contain factors like influencers, online directories, and forums, among many more. Moreover, your niche can also determine how many platforms may be added to your list.
But it isn't just about opting for the right platforms only. You also have to prioritize the platforms you list out. 
How to prioritize different platforms for Link Building
It is best to visualize the preferred end and the means here. You can forecast how each platform in your list will help you achieve the objectives of your backlinking strategy. 
It's quite a forecast, one that is aided by your past experiences too. For example, if your target audience is more on forums and less on directories, your focus should be on forums more than directories.
5. Using the right Anchor Text 
Next up on link-building challenges is the usage of anchor texts. Anchor text refers to the clickable text you might find on different content pieces. Your anchor text needs to be acutely aligned with the content where it is placed. 
Making an anchor text on your keywords is one of the most common practices followed by seasoned SEO professionals. However, there is no hard and fast rule on only using anchor texts on keywords. Yet, if you're not using your anchor text right, then there is a high chance that your website will start ranking for the wrong keywords or even keywords not relevant to your niche at all.
How to use Anchor text, right?
There was literally a time when Adobe used to rank for "Click here," as most people were using the term as anchor text when linking in a pdf. Moreover, as anchor text is also a ranking factor – as stated by John Mueller – it is best not to use too many anchor texts in a single piece of content.
Moreover, search engines also use anchor texts to determine the context of your page. This means that you can use anchor text for not only your targeted keywords but also their variations. 
Also, too much anchor text is a strict "No". In fact, using anchor text in moderation will not only make your content more readable, improving user experience, but it will also ensure that the content is actually read properly by your audience. 
6.Balancing between Do-Follows and No-Follows
One of the most common practices that SEOs have in their backlinking strategies is their focus on link-building opportunities for Do-Follow links. These links are often considered precious as the website actually trickles its own authority to the destination site. 
However, only aiming for do-follow is not only a challenge but can also be detrimental to your link-building strategy. Even though you will be able to garner authority faster with only do-follows in your backlink profile, without no-follows, all your efforts may be in vain.
Setting the right ratio for Do-follows and No-Follows
Even though your backlinks on other platforms like forums and directories come under link-building examples of no-follows, their presence is necessary. 
A backlink profile with only do-follow links would showcase suspicious activity to Google. On the other hand, a backlink profile with a set ratio of do-follow and no-follows would look much more natural. While this ratio is highly dependent on the type of niche you have, the general rule of thumb is to have 60% do-follows and 40% no-follows. 
7. Staying Aligned with Google's Policies
The link-building importance for SEO can be easily seen in how Google mentions it in its different policies. Even after a decade of being around, link-building is still one of the strongest signals to Google about a website's authority. 
Thus, it is imperative that your website and SEO are always adhering to Google's policies. There can be no mistakes here. 
How to keep vigilant of Google's Updates?
Google is constantly coming up with new updates almost every month, so it is best to periodically look at its updates history page to ensure that your website follows all the rules and regulations. Or better yet, simply bookmark the link we mentioned and have it accessible at all times. Once you are aligned with Google's Policies and updates, you will know exactly how to steer your backlinking strategy for it to become an imminent success.
Conclusion
While there are certainly multiple link-building challenges that websites face when creating a backlinking strategy, none of these are impossible to complete. Moreover, with the right approach, you can easily devise the perfect backlinking strategy that will ensure your website climbs up the SERPs in no time.