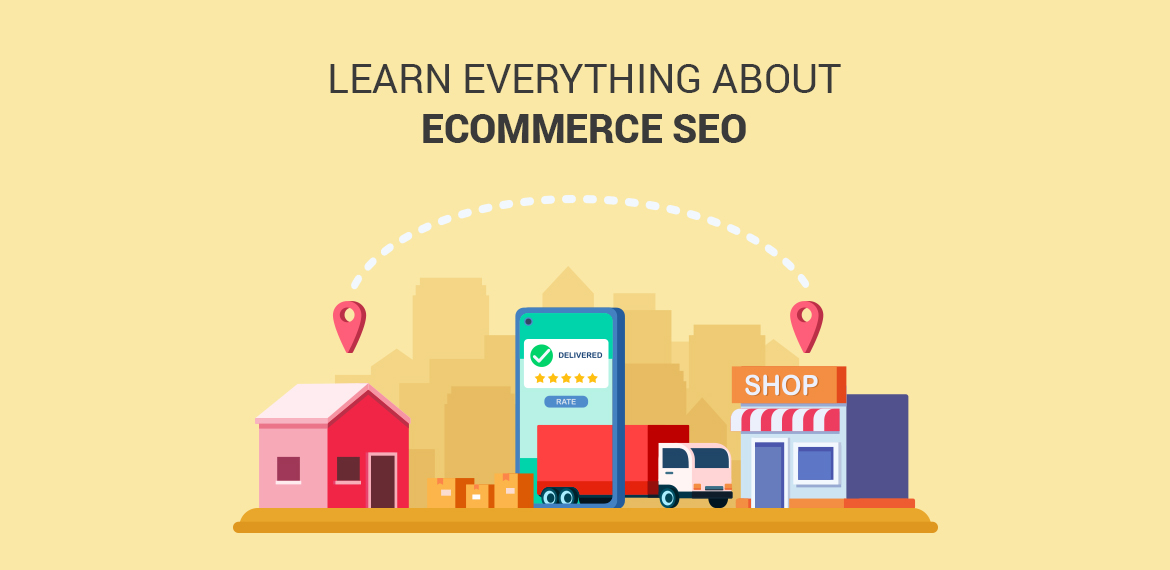 Layout2
A Step-By-Step Guide to Ecommerce SEO
Any eCommerce store owner would know just how crucial a steady flow of online traffic is to the success of their business. To achieve this, paid marketing often appears to be the most obvious strategy to adopt.
Sure, paid marketing can help to get that top spot in the search rankings. But in the larger scheme of things, it may not be the most sustainable option because the moment a paid campaign ends, visibility fades away.
But with an eCommerce SEO strategy in place, eCommerce store owners can have a much higher and sustainable ROI. And while it takes time, once everything starts to click with SEO, it can be one of the most effective ways to earn a competitive edge, especially in the eCommerce landscape.
So in this blog, we'll deep dive into the world of eCommerce SEO and discuss all the strategies and tactics that you can adopt today to improve your eCommerce website's conversion rates and SEO friendliness.
First, let's understand a bit more about eCommerce SEO.
What is E-commerce SEO?
Search Engine Optimization, or SEO in short, is the process of optimizing your website with all the best practices of appearing higher in the search rankings for related keywords. With better visibility, the chances of getting more traffic increase leading to higher conversions. That's the ultimate objective.
With regards to eCommerce, SEO has a huge role to play. Think of search engines like a shopping mall and your website as one of the many stores in that mall.  The more visible your store is, the higher are your chances of welcoming more customers who would then go on to buy something from your store. And to be more visible, you need to do the works.
Optimizing your website with relevant keywords, conducting on-page SEO, ensuring that there are no technical issues with the website, and creating more backlinks are all part of a good eCommerce SEO strategy.
We will be discussing each of these aspects in-depth. But before we get going with that, here are some interesting stats for you:
You get the idea right? The potential of SEO in eCommerce is huge. Not only does appearing high in the search rankings help you with more cost-effective conversions, but it is also a great way to win loyal customers who will keep coming back to your website. So in layman's terms, you are losing out on major bucks by not focusing on eCommerce SEO.
Steps In Implementing An E-commerce SEO Strategy
Now, it can seem a daunting task to implement an SEO strategy. But with this blog, I have broken down everything you need to do in actionable steps. If you approach SEO this way, it will be a very rewarding experience for you. So with that said, let's get to the first step which is keyword research.
Step 1: Keyword Research
To lay a solid foundation for your SEO strategy, you need to conduct thorough keyword research. This helps to ensure that whatever content that you create for your website is backed up by numbers.
On the contrary, poor keyword research or doing no keyword research at all can result in low impressions and traffic that is not likely to convert.
For your eCommerce website, there are primarily two key areas that you need to optimize with keywords. They are your category pages and your product pages.
A category page consists of all the related products and includes preliminary information about them.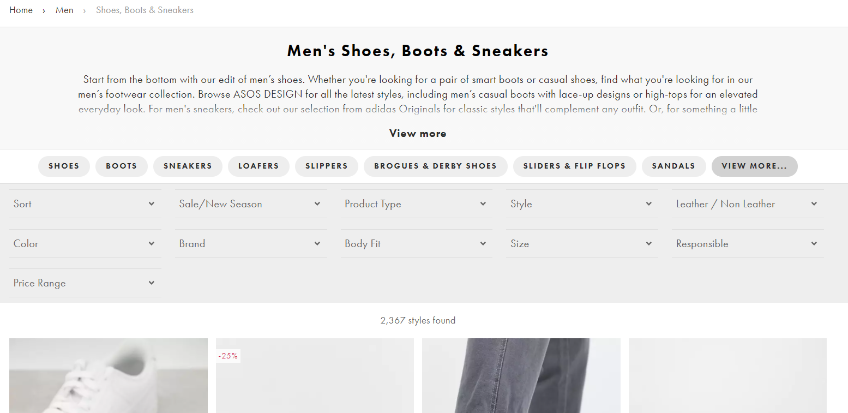 On the other hand, a product page consists of more details about a particular product. Here, an optimized product description plays a big role in appearing for related keywords in the SERPs. This is because an optimized product page targets a more defined buyer intent.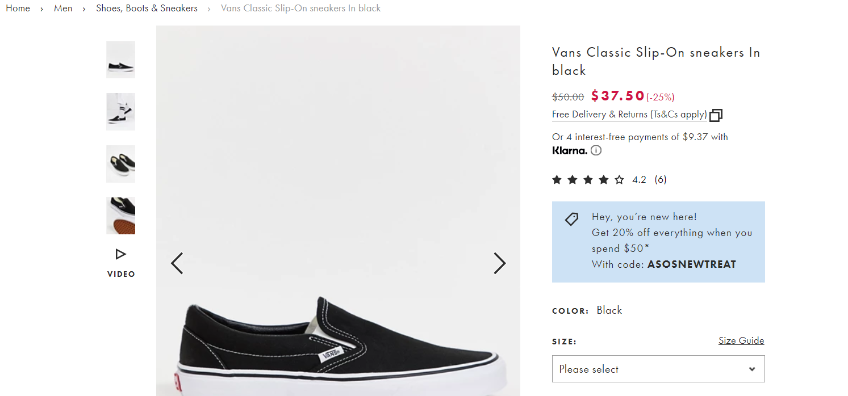 For example, someone who is just searching for "men's shoes" on Google will be better targeted through the category page where there are a wide variety of shoes available for men.
Whereas, someone typing "black slip-on sneakers" can be targeted through the product page since the customer knows exactly what he/she wants.
This way, we can categorize keywords like "men's shoes" as short tail or head keywords while keywords like "black leather shoes size 40" as long-tail.
Now how do you find keywords for eCommerce websites? Here are 3 methods for you that work quite well:
Amazon Suggestion
Since Amazon is the world's largest eCommerce platform, it is a goldmine for finding profitable keywords for your store.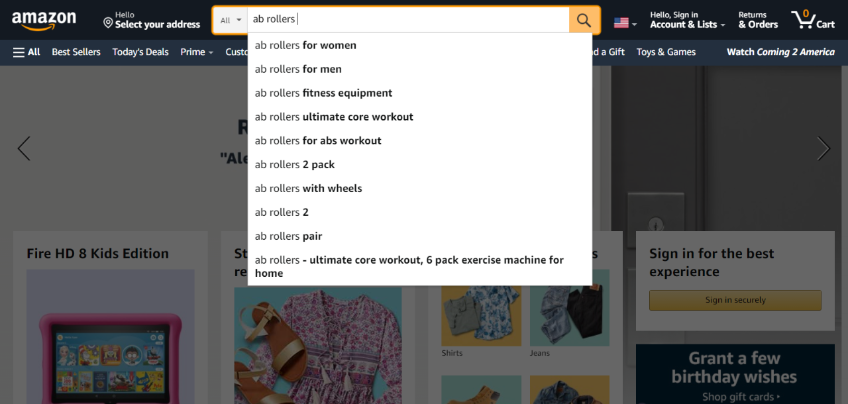 All you need to do is start typing in your main keyword and it will show suggestions based on what has been searched the most. You can also use the Amz Suggestion Expander chrome extension to have a list of all the suggestions from the seed keyword compiled in one place.
Apart from this, Amazon is also a great place to find category-page keywords. You can do that by going through the sub-categories of the products it presents on the search results page.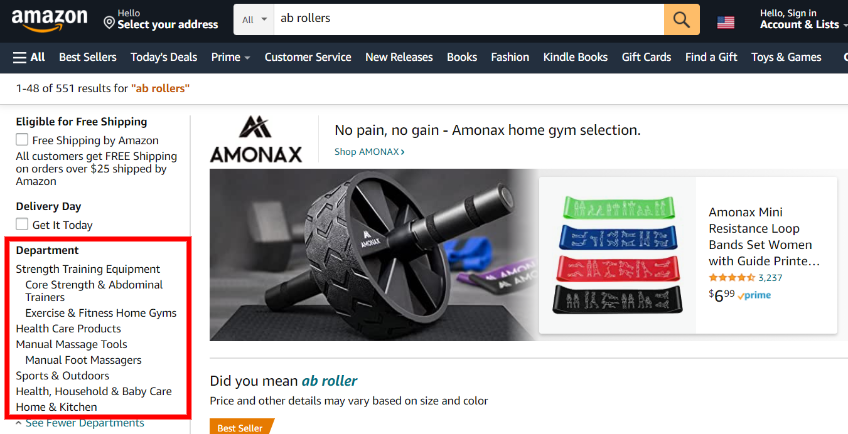 Google Keyword Planner
The Google keyword planner is also a handy tool to validate your initial list of keyword ideas. You can filter out keywords based on their search volume and commercial intent. The way to gauge commercial intent is to check how competitively the bids are for particular keywords. A higher bid tells you that the customers are most likely going to convert using that keyword.
Ahrefs
If you have a few bucks to spend, then Ahrefs does a pretty good all-around job for your keyword research.
Firstly, you can use it to see which keywords you are currently ranking for. To do that, we add in our URL and then select the "Organic Search" tab on the left. Once you have the list, you can filter it so select only those keywords where you are ranking at a position between 5 and 10. These are keywords, for which if you put in some SEO effort, can help you score easy wins.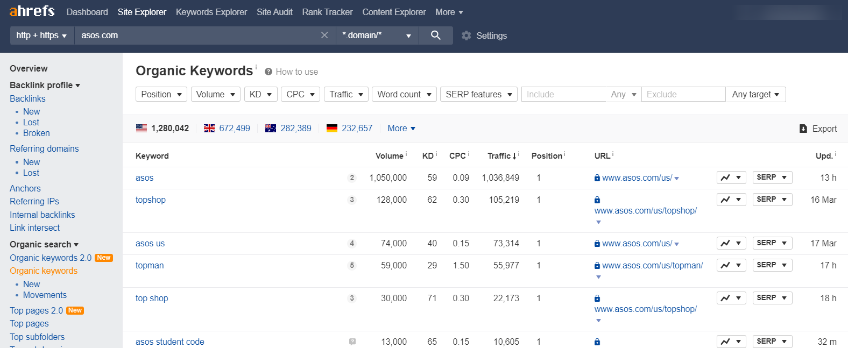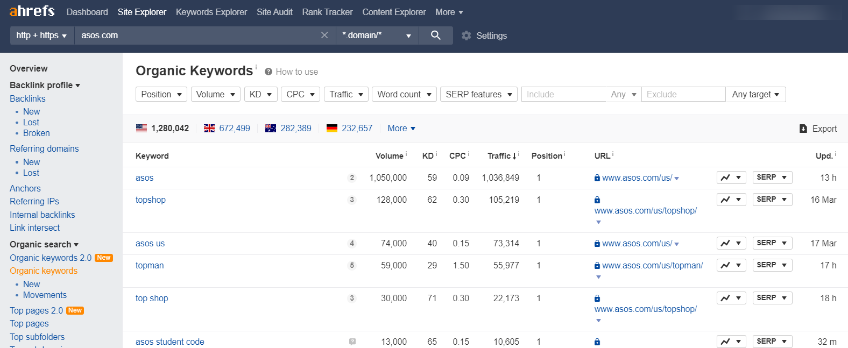 You can also spy on your competitors to see what keywords they are ranking for. Of course, you want to have a fair shot at outranking them. So you can again filter out keywords based on their search volume and ranking difficulty.
Apart from this, it is a great way to generate and validate keyword ideas based on your seed keyword. If you're interested to know more about Ahrefs, here is the link to their website.
Criteria For Selecting The Right Keywords
Finding a list of potential keywords is the easy part. But you need to ensure that only those keywords reach your website which can truly help bump your search visibility. Here are 4 key factors that you need to consider when finalizing your keywords.
Search Intent
You need to know the real purpose behind keywords that searchers use. As an eCommerce store, your primary focus should be on those keywords which have a transactional intent. To find them, you can type in your head keywords in Google to see what kind of pages are popping up.
If there are mostly product or category pages coming, it means that the keyword has commercial value so you need to target them.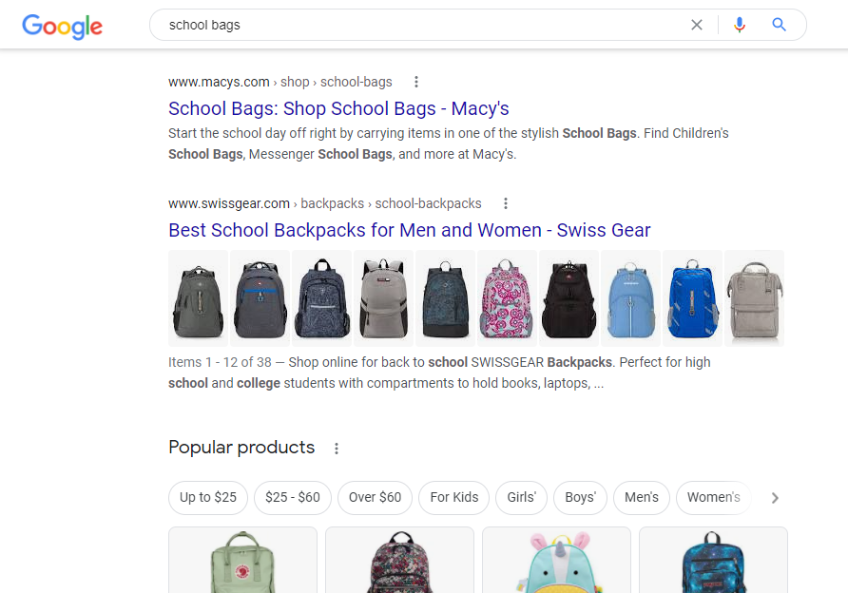 The key lies in understanding the difference between the informational keywords which are used to gather information regarding a topic versus, transactional keywords, where the intention is to get to a page to buy something from it.
Search Volume
Of course, you want keywords that generate enough search volume for you to optimize your website with. But it also depends on the niche that you are in. For some eCommerce websites, a search volume of 100 is a lot while for others it may not be worth the effort. So it is important to know your competition and your current standing.
If you are just starting out, it wouldn't be a smart move to target densely-searched keywords. Once you find your footing, you can gradually target more broad keywords with a high volume.
Competition
You also want to keep an eye on how hard it would be for you to rank for a particular keyword. For this, Ahref's keyword difficulty score is super handy. Generally, keywords with a difficulty of 20-30 are easier to rank for initially if you put in some effort.
Relevance
Finally, always check how relevant the keywords are to each page of your website. For example, if you are targeting keywords that are too broad, like smartphones when you only sell smartphone cases, you'll end up having a higher bounce rate since customers will not find what they are looking for.
Again, if you want to write a blog on your website (which you definitely should, and we'll discuss it in detail later), your keywords would be slightly different from the ones you select for your product or category pages.
Step 2: Optimize Your Website

Structure
The next step in optimizing your website is to understand how well it is organized for user experience and Google bots for indexing and crawling. Since an eCommerce website has generally a lot more pages as compared to let's say a blog, they must be visible to both customers and search engines.
Always keep the 3-click rule in mind when it comes to website structures i.e. it should not take more than 3 clicks to get to a page from any other page.
The reason why this is important is because you want to make sure that your authoritative pages that appear higher in the rankings and are trusted by Google can pass on some of that authority to other pages as well.
Here is an example of a good site structure. Since, homepages are generally the most authoritative, this website structure ensures that no page takes more than 3 clicks to get to from the homepage. This way, the link juice flows to pages that may not be indexed yet by Google or are struggling to rank.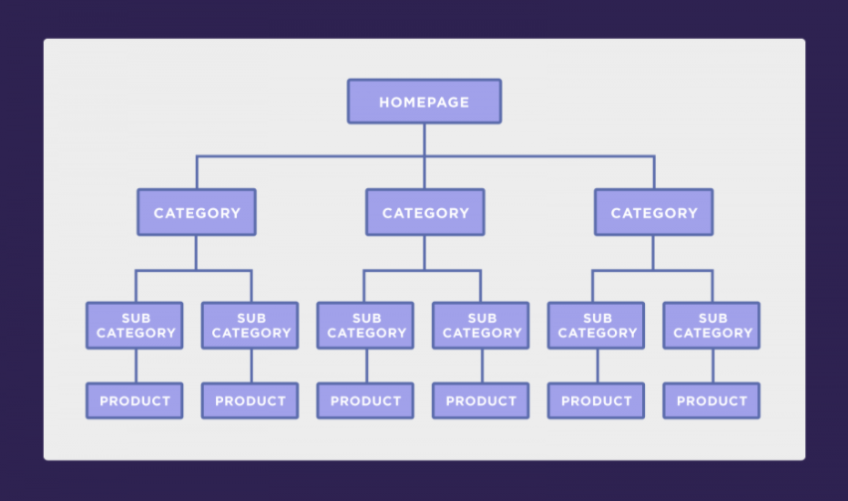 But if your website structure looks something like the example shown below, then you need to revamp it right away.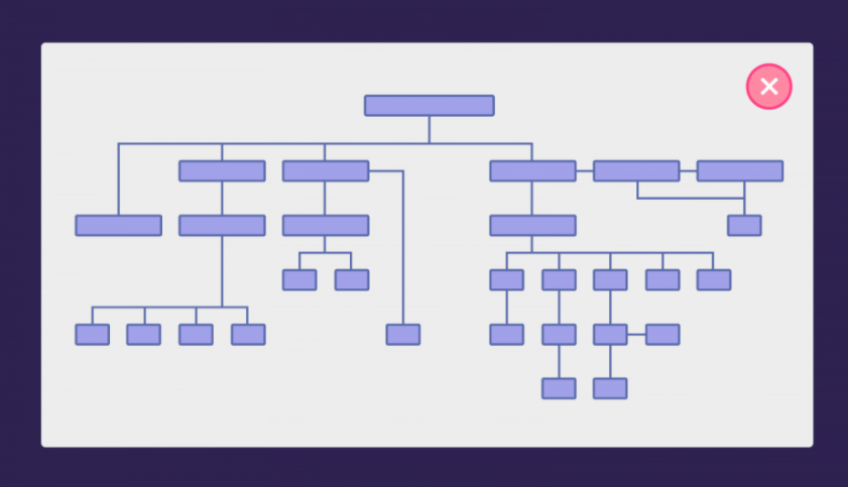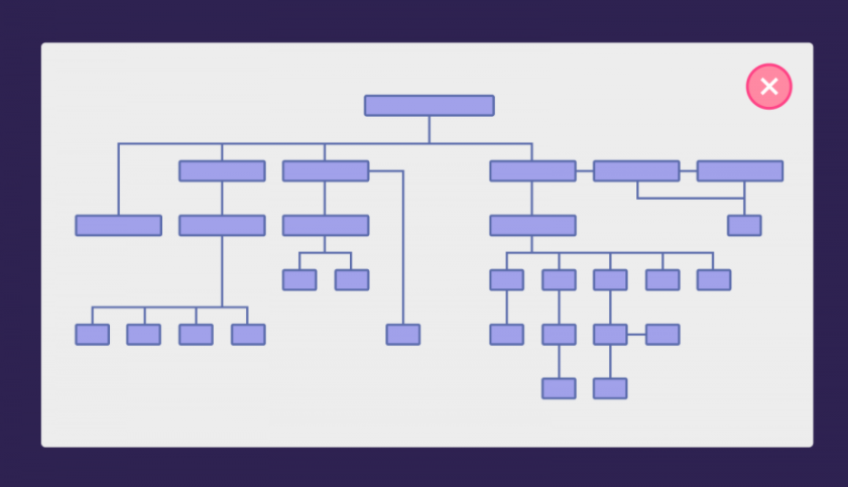 Step 3: Implement On-page SEO tactics
Once you have a refined list of keywords to use and a website structure that is both SEO and user-friendly, you need to then focus on the on-page SEO of your website. As mentioned previously, the product page and the category page are the two key pages in your eCommerce website that need your special attention.
These are the pages that ultimately drive conversions for you so you must be following all the best practices when optimizing them. So following are the most important on-page SEO tactics that you need to adopt for your eCommerce website.
URL
An optimized URL structure is essential for better on-page SEO. URLs help search engines understand how the pages in your website are related to each other. An optimized URL structure not only helps in ranking your category and sub-category pages but they are also a good way to implement the breadcrumb function which is a way to help Google in scanning and indexing your website.
Here is an example of an optimized URL structure:

In the example above it is easy to understand that the main category of the page is "Men" followed by the subcategory "Clothing" and then the sub-sub category "Coats & Jackets".
So here are some useful tips to keep in mind when writing URLs for Ecommerce pages:
Keep them short (less than 50 characters)
Clearly understand their hierarchy
Use primary keywords and try to match them with your titles
Don't repeat keywords
Avoid using underscore and instead, use hyphens to make them more readable
Don't use numbers
Titles Tags and Descriptions
Your title tags and Meta descriptions, like your URLs, appear in the SERPs and have a major impact on the Click-through rate of your website. So always use your keywords at the start of the title and make them as click-worthy as possible. Again, they can be about 50-60 characters long and you can mention your brand name (if you have to) at the end. You can also include Call-to-Action words like "Buy Now", "Click here" to create urgency.
Each description should uniquely describe the content of the page and can include perks like "free shipping", "50% off today", "buy-1-get-1-free" etc.
Product Descriptions
Your product page can make or break your chances of ranking higher in the SERPs. As per research, long-form content is the way to go here. This is your opportunity to use all the semantically related keywords which provide better context to Google regarding what your page is about.
For example, a page that just lists features of a product will have a lower ranking in comparison to that page which not only lists features but also goes through all the benefits and the different use-cases for the product. You can look for the semantic keywords through Google Keyword Planner or even by going through the pages of similar products on Amazon.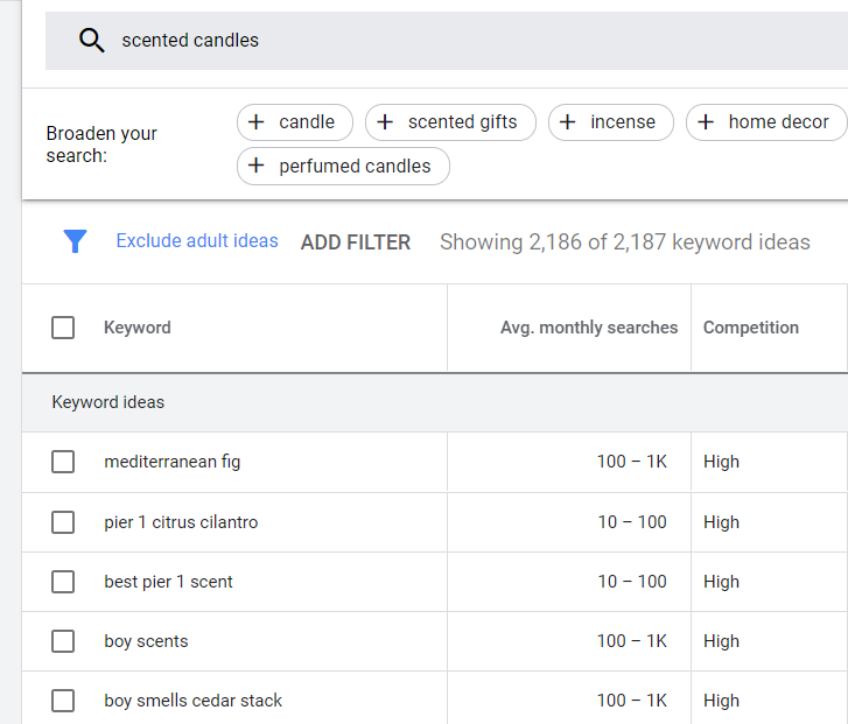 So ideally, I'd say each of your product pages should include about 2000 words. Out of them, about 1000 words should come from your side and the rest can be covered through reviews.
But writing 1000 words for each of the product pages can be overwhelming especially when you have more than 100 products. In that case, you can prioritize those pages that are most important to your website and then start off with them.
To do that, use Google Analytics and see which pages get you the most traffic. Make a list and then start adding more in-depth descriptions for each one of them. Don't forget to include your primary keyword about 3 to 5 times in the description along with the LSI keywords.
Schema Markups
For eCommerce websites, a major part of the struggle is standing out from the competition in the SERPs. Ranking high in the SERPs can only be beneficial if your link is generating enough clicks. So if you want your pages to appear uniquely, adding schema markups can prove to be super useful as it can improve CTR by about 30%.
For your product pages, you can use the Product Markup from schema.org through which you can have the name, image, description, aggregate rating, pricing, and other related information regarding your products displayed on the search page. Displaying reviews alone can have a big impact on your CTR since, as per research, 89% of customers avoid taking any action before reading reviews.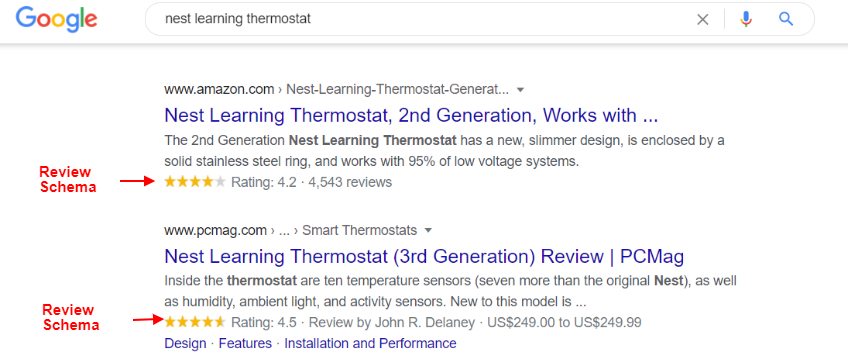 Setting up schema markup can be a bit tricky and that's why the Structure Data Markup Helper makes life super easy. You can simply add the URL of your product and select which area you'd like to highlight in the SERPs.
Internal Linking
We mentioned earlier how you can use the 3-click rule to help those product pages that need a bit of a ranking boost by passing link juice from high authority pages. And while it is true that your homepage will generate the most authority for your website (simply because more people land on it), if you have a blog page, that can too play an important in passing on the link juice.
This is because blogs usually have long-form content where you can discuss a range of sub-topics within a given topic, improve the indexability of your website and engage with the audience in a better way to finally make them land on your product pages by linking to them in your content.  Always remember to use keyword-rich anchor text for better SEO.
Mobile Optimization
Google has made a lot of updates to its algorithm, to reward websites that are optimized keeping in mind the mobile-first approach. This is because having a mobile-friendly website makes it 67% more likely that a customer will purchase a product online. So this means you need to ensure that your website is not only responsive on mobile but performs optimally keeping user experience at the forefront.
Step 4: Conduct a Technical Audit of Your Website
It is more likely that an eCommerce has a few technical glitches hindering user experience and overall SEO visibility as compared to any other website. This is because eCommerce websites have loads of pages having images, URLs, and content which can sometimes make it difficult to keep the website squeaky clean of errors.
Therefore, it is always a good idea to conduct a site-wide technical audit now and then to see how your website is performing based on different factors. In this section, we will be discussing three of the most important areas of your eCommerce website which you always need to keep your eye on.
Page Speed
There is no denying the fact that a high website load time results in a poor user experience, which ultimately takes a toll on your ranking. As per research, 37% of visitors will bounce off if your website takes 5 or more seconds to load.
Apart from the bounce rate, poor page speed also harms your brand's image. All these page speed-related issues can lead to an increase in shopping cart abandonment by up to 75%.
There can be many reasons for a slow page speed. In eCommerce websites, it mostly comes down to large media files and slow hosting servers. So it's important to choose hosting providers wisely based on all your requirements.
Secondly, investing in a Content Delivery Network (CDN) also helps since it reduces the distance between the server and the end-user. And finally, you can use file compressing tools or lazy loading for your large media files like banner images and videos.
If you are looking to know more about reducing site speed, here's a blog that'll be useful for you.
Duplicate Content
Duplicate content is one of the most common issues that eCommerce websites face. It can be due to the following reasons:
Different URLs leading to the same page (because of variations in URL parameters like changes in sizes and colors etc.)
Using the manufacturer's product descriptions
Copying content from any other website

To fix these issues, you can use 301 redirects which redirect Google to the original content. Apart from that, you can also use Canonical or NoIndex tag to tell Google not to index pages with the same content twice. And of course, writing unique content is the only way to avoid penalties from Google due to copying content from other websites.
Orphan Pages
Pages that are deeply buried in the website structure need to be addressed as well. As mentioned previously, you want the most important pages to not be more than 3 clicks away from the main page. So to check pages that are not getting any link juice from your website, you can use Ahrefs' Site Audit tool.
Once you have a list, you can decide to either remove them from your website or revamp your site structure to ensure they get the link juice from your high authority pages.
Step 5: Implementing Ecommerce Link-Building Strategies
Link building is the last piece of the puzzle in your eCommerce SEO journey. It is generally believed that your SEO success is largely dependent on your link-building activities.
That's not to say that all the other factors like keyword research, on-page SEO, website structure are irrelevant. They are far from irrelevant. The only way your link building initiatives will get the results you want is that it is done in unison with all the other SEO factors. Without an optimized website, for example, you're backlinks will do you no good.
That said, link building is a bit tricky because it takes more time as compared to other SEO efforts. You want links from high DA websites and you're only going to get them when you have built up trust and credibility for yourself which takes time. But once you've built a strong link-profile, the results will start rolling in quickly.
So here are the most effective link building tactics that you can employ for your eCommerce website.
Blog Content
As mentioned earlier, blogs are a great way to engage with your audience and naturally direct them to your product pages. But apart from that, they can also be a great source for earning external backlinks for your website. They allow you to write long-form content based on the questions that are being most frequently asked by your customers.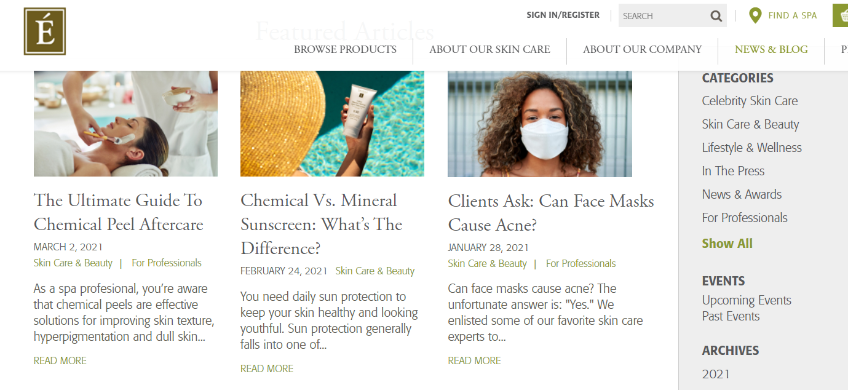 So when creating blogs, you first need to prioritize quality content and choose topics related to your offerings. For example, if you sell fitness equipment, create content that discusses everything related to diet, fitness myths, and exercises to do, and so on. To generate ideas, Ahrefs' content explorer tool is super useful.
Once you have curated enough content, you can make use of broken link building. With that, you can look for websites that are linking to dead resources and offer them to link to your content instead. Again, Ahrefs helps a ton in finding such websites.
Influencer Outreach
Influencer marketing is another great way to earn quality backlinks. You can leverage the trust that the influencers have created for themselves in their audience for your brand.
One of the most common ways to get links from the influencers is to send out a sample of your product and ask them to do a review.
The important thing to remember here is that you want to collaborate with influencers that are relevant to your niche and have a genuine following.
Directories
Directory submission is a simple yet effective way of building backlinks for your website. This method involves submitting your website's URL to free or paid directories like a local chamber of commerce, e-com directory, Google Shopping, etc. Search engines will then find your website through these directories and rank it accordingly.
Reach Out to Manufacturers and Complimentary Product Suppliers
You can also reach out to the manufacturers of your products and ask them to refer their customers who are looking for retailers for their products to your website.
Apart from this, you can also look for those websites that sell products that can complement your own offerings. For example, if you sell gaming chairs, you can reach out to websites selling gaming keyboards and collaborate with them for your link building efforts.
Final Thoughts
The potential of eCommerce SEO is huge!
You probably won't see results overnight. But the benefits of a well-executed eCommerce SEO campaign stick around for a very long time. And remember, it's a continuous process: you need to continually monitor the keywords you're ranking for, assess your website traffic, conduct technical audits and keep earning quality backlinks.
If you focus on everything that has been discussed here, there's a pretty good chance that you will leave your competition behind.