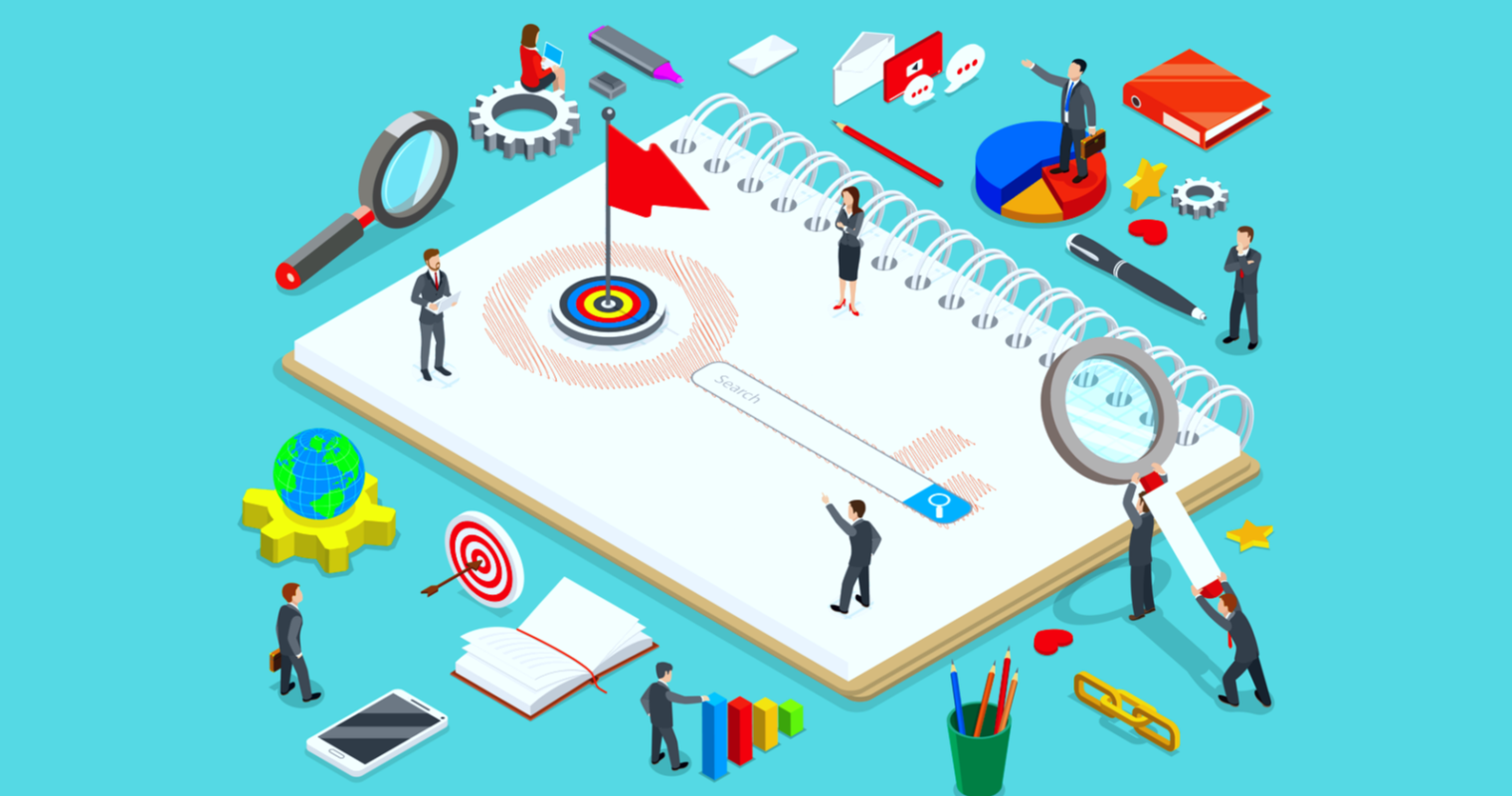 Layout2
Enterprise SEO And Link Building: The Definitive Guide
SEO, or Search Engine Optimization, when applied to an enterprise, becomes a completely different ballgame. 
To better relate, think of it going from a chess game with your noob friends to playing directly with grandmasters. 
If this defines how you feel, worry not. 
By the end of this article, enterprise SEO won't overwhelm you.
To better elaborate let's clarify a few differences between traditional and Enterprise SEO
Enterprise SEO Vs. Small Business SEO
There are a lot of differences between small business SEO and Enterprise SEO. 
A few examples are listed below:
Enterprises already have a larger audience compared to small businesses so they rank better from the start.

Enterprise websites can have thousands of pages, whereas a small business website may have a few hundred pages at most.

Enterprise SEO teams are much larger than their small business counterparts.

Enterprise SEO teams have a much bigger budget compared to small business SEO teams.

Enterprise SEO targets many types of keywords depending on strategy. Small businesses typically go for keywords with low competition and high volume while enterprises also go for competitive keywords.
However, there are also many perks that Enterprises have when it comes to SEO. 
| | |
| --- | --- |
| Enterprise SEO | Small Business SEO |
| Large audience from the start | Audience is oblivious to the business |
| Thousands of web pages | A maximum of a few hundred pages |
| Usually a dedicated SEO department | Only 1-2 employees are working on SEO |
| Bigger budget for SEO | Minimal SEO budget |
| Like to target competitive keywords | Restricted to low-competitive keywords |
The High-5 Benefits Of Enterprise SEO
1. Have Deeper Insights 
One of the first benefits to Enterprises is that they can procure customer data more easily. 
They attain data that can also be used to gain various insights and create an apt strategy. This is done with the help of various tools and studies that become affordable with the budget. 
Enterprises can set benchmarks to monitor their active strategies. This allows them to alter plans whenever necessary. 
In short, with an enterprise strategy, every factor works in synchronization.
2. High Brand Recognition Locally
Enterprises already have a boost when it comes to being known locally.
But to evaluate more, we earlier made a Definitive Guide to doing Local SEO, which can be more like a small checklist to get stuff noted and done.
An enterprise is often established, having a set reputation in its local community. It's why they easily rank up in their locale.
3. Easier To Maintain Brand Image
As a brand, your reputation should precede you. 
A positive brand image can make you a market leader, so you have to actively ensure it. 
You can spend big bucks to achieve this with ads, but word-of-mouth can bring even better results. How to do it?
Customer reviews!
Getting positive customer reviews and testimonials is the best way for you to gain trust with potential customers. 
Similarly, enterprises can also hire social influencers for their campaigns and improve their reputation while simultaneously earning social media backlinks and customer engagements.
You can also check how you can use social media for link building here.
4. Much Safer From Google Updates
Google almost continuously updates its algorithms.
After every update, many websites get affected. Although luck might also be in play here, enterprises often benefit from these changes.
The reason is simple, the SEO experts at enterprises ensure complete compliance, and the updates often bring minor changes only. Furthermore, enterprises have the resources to more quickly adapt, giving them the chance to change faster than others.
5. Easier To Get Backlinks From High-Authority Websites
An Enterprise is constantly in the limelight.
Due to this reputation, their name is regularly mentioned on the internet. Each time this happens, there is an opportunity for backlinking.
With loads of backlinking opportunities available, the enterprise can actually choose websites that have higher domain authority. 
Similarly, enterprises are also held in higher regard when they approach a high-authority website for backlinking. 
If you're looking for high-quality backlinks right now, you can simply begin by scheduling a free consultation with us. 
We hope you are adequately aware of the benefits of enterprise SEO, as now we will focus on setting the right foundation for the same.
Enterprise SEO – The Terrific Triad
Your Enterprise stands on a crucial Tripod. 
If any leg of the tripod falters, your enterprise can fall so you have to be extremely vigilant. 
These legs of foundation are:
Keyword Research and Targeting

Consistent High-Quality Content

Process Automation
Also, patience is a key factor in SEO, even with Enterprises. Ranking up may not be immediate, but it is assured.
1. Keyword Research And Targeting
Keywords research is one of the most important factors of SEO. 
And this also holds true for Enterprise SEO. As an organization with a dedicated SEO department Keyword research should be relatively easy.
You can also check out our blog on Keyword Research and Selection to better learn about how to get the right keywords. 
It's always best to conduct keyword research with the help of professional tools. 
While there are dozens of tools available, we would advise you to choose from either Moz, SEMrush, or Ahrefs. 
Let's get back to your keyword selection for now. 
You have to start by targeting keywords. These are generic queries anyone might be making just remotely interested in your products. 
Enterprises go after generic keywords, even though they have a high competition to ensure they have maximum visibility for their customers. However, other than generic keywords, enterprises also focus on Non-branded category keywords.
Non-branded category keywords are when a user searches for a product without a brand in mind. However, the customer has not made a decision to buy yet so they may just be browsing for options.
Another type of keywords that are not concerned with your brand are transactional keywords, where a customer is ready to buy or convert but is just ensuring to check out all options. Targeting these keywords can help you land immediate conversions if done right. 
However, your last type of keywords are the most important for your enterprise. Branded Keywords occur when users are searching for you by name. This is often the easiest to rank for, unless your brand has a very generic name.
The more positive results a user gets from the search results, the better your brand image becomes. 
Once you know which keywords to go after, you can start devising the perfect content plan.
2. Consistent High-Quality Content 
Content is the cornerstone of your SEO. 
Once you have the keywords, it is important that you start utilizing them in your content to optimize your rankings. 
However, the medium you use is also equally important. For example, you might be able to put up a lot of blog posts on your own website to directly market your products, but doing the same on guest blogging is not appreciated. Instead, you have to be more subtle.
The objective is to craft catchy off-page and on-page content to pull users towards your products. Also, the keywords used should align for on-page and off-page. 
In fact, any piece of content you create should satisfy the following factors:
Use Target Keywords

Include Meta Descriptions and Meta Tags

Have a High readability Score

Contain Relevant Internal Links
Enterprise SEO surely looks quite difficult and lengthy till now, but that's only because you still haven't automated it yet.
3. Embrace Automation
Embracing Automation is an imperative mantra for Enterprise SEO.
It's impossible to manage a website and keep track of thousands of pages without SEO tools.
Now enterprises go with either Moz, SEMrush, or Ahrefs. These all-in-one SEO tools can help boost up your automation process, with features like site audits and readability scores. 
However, Moz is considered more basic compared to SEMrush and Ahrefs, which also offer content marketing tools. 
Although subscriptions to such a tool might be hefty for small businesses, enterprises can afford them.
Another benefit of these automation tools is that they help identify any missing /broken links. Also, you can have a good idea of which of your web pages are working well versus the ones that need improvement. 
In fact, with automation, your marketing team will find the below tasks easier done than said. Yes, you read that right!
Identification of broken or missing links

Keyword research and content analysis

Quality of your external and internal links

Readability of your pages

Website Audits

Schema generation and implementation

Meta tags, titles, and descriptions
Tips To Edge In Enterprise SEO
Feeling capable of Enterprise SEO yet? 
We are sure you have more confidence than before at least. 
Well, buckle up, as this is where it really gets interesting. From here onwards we'll be heading into the eye of the storm and emerge victorious soon!
1. Scannable For Google And Readable For Users
The main focus of your SEO should always be towards an exemplary user experience and easy for Google to crawl through. If you visited our local SEO blog earlier, you will know that Google does not have people sifting through every page, but rather algorithms that scan through every page. 
This means a robust backend for Google to crawl and an elegant frontend for your users to read. Don't fret though, an enterprise can achieve this quite easily. 
You can also learn about How search engines work here. And once you're done with that you can check out Google's Page Experience Update. 
We talked about keyword research and selection earlier, now let's build up a strategy for the keywords just within your reach.
2. Target Keywords That Are Almost Within Reach
When it comes to using the right target keywords, your strategy comes into play. There is a high chance you will require a tool like Ahrefs to accurately analyze the impact of any and every keyword that you may opt to target.
You will also be able to get keyword variations from the same tool. There is also a chance that many of your pages might be almost at the brink of the first page, or be present on the second page of SERPs. 
You can simply use your SEO tools to check how your keywords are ranking. The following steps will also help you find out which of your page rank on the second page with reference to their keywords:
Type your website domain into your all-in-one SEO tool.

Select the option organic keywords. Position 1-10 is the first page of SERPS, 11-20 is the second page, and so on.

Select the position range 11-20 to see keywords and web pages ranking on the SERP.
However, our example came from Ahrefs, so your SEO team may have to adapt accordingly for other tools.
For example, if you type "SEO for real estate" into Google right now, you should find our blog on real estate on the first entry of the second page.
The focus is to improve the ranking for these pages on the brink. We improved from 16 to 11th position recently, and this should be your focus too till you reach the first page.
However, if you're going for excellence, reaching the first page isn't the only priority.
3. Aim For Featured Snippets Via Voice Search And Media Optimization
Reaching the first page on Google SERPs might be a goal, but it's not the ultimate objective for SEO. 
The idea is to gain position in featured snippets. 
This happens when your answer to a question is so accurate and apt that Google ranks it above ads too.
See this example below:
This is how Google pulled content directly from a webpage to answer a query?
That's the dream!
Similarly, an enterprise SEO team can also focus on ranking through voice searches and media optimization.
Optimizing For Voice Search
People today often prefer voice searching over typing in their queries. 
With software like Siri and Google Assistant becoming more and more common, voice search optimization is now a necessity.
This optimization gives amazing SEO boosts for many organizations. To learn more about optimizing for voice searches you can check out our blog here.
Media Optimization
A rule of thumb for media optimization is to use visuals that load up asap.
Any image or video should be optimized to consume less bandwidth and maintain quality. Furthermore, it's also best to include alt text so that Google recognizes what you're communicating with your content.
Alt-text is simply a short description of every media with a focused keyword included. It allows users to know what the media is saying should it fail to load or if they are unable to watch it.
4. Get Connected With Your Inner Web
Any and all your pages should be connected.
Your homepage should be reachable within 3 clicks from every page regardless of how complex your website is. It can be quite a hectic task, but doing so will ensure that any visitor on your website is able to easily navigate. 
All those links you previously saw in this article, like the latest one on voice searches are real-life examples of internal linking.
But while internal linking is always within your control, it is your off-page external link building that plays a more crucial role to get you traffic.
5. Get On With Enterprise-Level Link Building
Now that we're approaching the end of our checklist, it seems that you have become almost an expert in Enterprise SEO. However, just like marketing is often best done by the agencies, Link building is quite the same. 
According to Ahrefs, the more backlinks your page has, the more organic visits you're likely to get on that specific page but getting backlinks is not always easy.
In fact, while your popularity as an enterprise can score you a lot of backlinks, to consistently get backlinks with high domain authority, it's best to have a complete in-house link-building team of SEO Gurus. Or you can save yourself a lot of time and expenses by getting the same done with professionals like Link Building HQ. 
However, a major player for Enterprise SEO is content. Here is where your excellence should be unmatched.
6. SEO Content Rejuvenation
The proverb "Content is King" has never been truer. 
In fact, it is your content that can aid your victory at Enterprise SEO race. The idea is to create and post stuff so attractive that one cannot help but consume it.
To generalize, you need to be vigilant of three things when it comes to content:
1. Work On Thin Content
As an enterprise, it is important to analyze and find the margin for additions. More content can mean more keywords and consequently better rankings. 
Although this does not mean you can forego quality, expanding upon your bullet points is beneficial for your readers and SEO. Remember when we said our aim is to feature in featured snippets? 
You will see that most web pages that appear in featured snippets are usually long articles that are quite detailed. The reason why Google does this is to ensure that the gist is available on SERPs and the link gives a detailed answer too.
2. Repurpose More Content
Another point with content is that it should be updated whenever needed. This often goes mostly with your blogs. The more updated your blogs are, the more relevant they remain for your audience. 
For example, we recently updated our Local SEO article after looking at the recent Google updates. As the article now included more apt keywords, the rankings also started to improve. 
3. Promote Content
Finally, what is the point of creating more content if you aren't getting more people to consume it? 
Enterprises can have an "n" number of ways for this. We already discussed using social media influencers to increase engagements. Similarly, you can repost the shoutouts they gave you and increase the number of viewers for them and yourself. 
Furthermore, you can also get into Pay-Per-Click campaigns and spend big bucks to immediately increase the number of visitors to your web pages. In short, this is where your content marketing budget will be mostly spent.
Conclusion
To put all the above into perspective, Enterprise SEO is certainly a challenge for any team. However, with the budget, scale, and responsibilities that come with Enterprise SEO, drafting the perfect strategy also becomes easier. 
We do hope that this guide was more than enough to satisfy all your Enterprise SEO queries. For more information related to SEO, you can subscribe to our newsletter and stay updated. And if you have any further queries or statements regarding this blog, feel free to tell us in the comment section below.