Layout2
Effects of Broken Backlinks [Fixes Included + Free Bonus Tip]
If you have even the slightest idea about SEO, you know about backlinks! Backlinks help Google in several different ways. All of which comes back to the website owner and helps them optimize to rank on top of the SERPs. But then, we have Broken Backlinks, that may just change the game…
Before we dive deep into the effects of broken backlinks, you need to know the role of backlinks in SEO for Google. 
Backlinks are one of the most important factors for Google to rank a page! 
For Google, backlinks are a way to determine the page relevancy to a particular topic or keyword. Once Google knows what your page is about, it is then crawled to understand your content and eventually surface it on the SERPs. 
So, what does Google want to know once it determines the relevancy of the page? It pulls out its EEAT guidelines, which we all know is Expertise, experience, authority, and trust, to see if the content matches its standards. Backlinks help Google get a kickstart. When an established website gives your website a backlink, it tells Google that you are someone to trust. 
Google also uses backlinks to fight off spam. The types, number, ratio, and quality of backlinks on a website helps Google find out the blackhat practices that websites may or may not be doing. This eventually filters out the spammy websites from Google's index.
An added advantage for you is that according to the AHREFs stats, pages with backlinks have a higher organic traffic than pages that do not!
These are just some of the reasons why having a rich backlink profile is imperative. 
If you are one of those that has a rich backlink profile… hold your horses. You are not off the hook! 
Backlinks Break! 
And broken backlinks are not something you want on your profile!
Don't you worry! We have everything you need right here! In this comprehensive guide, we will talk about why you should not have broken backlinks, and how you can identify its types and even fix them. 
Why are broken links a problem?
Imagine having a very fair profile with hundreds of backlinks but some of them are broken? Most people do not care much about them. But here is why you should care about them and take necessary steps. 
Poor user experience
Here at LinkBuilding HQ, we have said it again and again and we will say it one more time! Google is becoming more democratic every day – of the people, by the people, for the people!When a user redirects to your website using a broken backlink, it gives them the impression that you are not serious about your own website. Moreover, it instantly makes the user lose trust and credibility in your website. You do not want to get rid of your audience, do you?
SERP rankings drown
On top of losing your audience, you will lose Google as well as your buddy! Google associates Broken Backlinks as a sign of content that does not meet EEAT standards or content that is absolutely outdated. When Google decides to crawl your website and sees broken backlinks, it simply disregards your credibility and lowers your rankings.Furthermore, link equity from a credible website is lost. So, the run down is, you have no link juice, no credibility, and no link equity. A broken backlink will simply act as the iceberg to your Titanic and your SERP rankings will sink!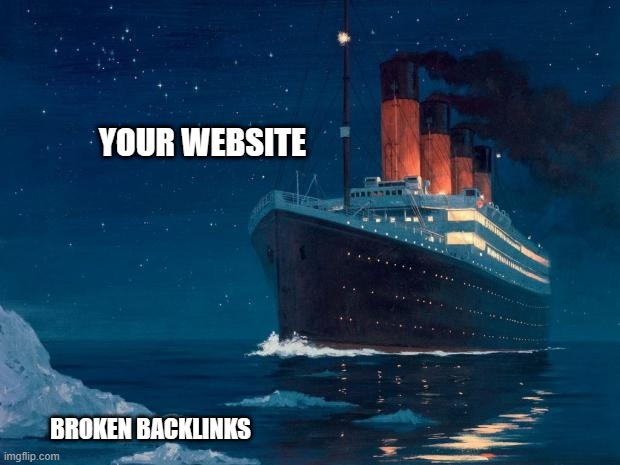 Bounce rate
The bounce rate of the website is when a user visits and bounces back to some other website without spending time on yours. With a broken backlink, you will naturally develop a higher bounce rate – thus losing your lead!These are just some of the major disadvantages you get with Broken Backlinks!Now, what do you do?Simple! Just like every broken thing in the world needs fixing, your backlinks do too!How? Well…
Types of broken backlinks with their fixes
To fix your broken backlinks, you need to know what they are, what the errors denote, and how to fix them. 
Here is a simple table that will tell you about it! 
Error 

Reason

Fix

404 Page Not Found

The page doesn't exist on the server anymore.

You may have changed or removed the URL. Reach out to the webmaster and give them the correct link.

400 error

The server does not understand the URL that is being accessed. 

Check the URL for any typos or errors first. Send the backlink provider the right link to update it. However, if this does not work then check if you have changed your URL and set up a 301 redirect. 

Another probable fix is to check the URL if it is outdated and update it.

Reset

Link may have been dropped because the host server is misconfigured or busy.

First identify if the link was actually reset or was it dropped. Contact the host webmaster and inquire. If the link was dropped, then send an alternate page.

Timeout

Server timed out during the redirection or the check. 

Waiting first is the best way to go about it as this error may be because of a connectivity issue. If it does not fix itself, then reach out to the webmaster and request a content delivery network. CDMs help in closing-in the geolocation thus improving accessibility. 

Bad Host

Host website may have been deleted or is unreachable.

First step is to find out if the host is unreachable or deletion. If it is unreachable then wait for the server to fix on its own. If that does not work, then you have to reach out for an alternative website.

Bad URL

The URL must have been misspelt 

Identify the typo. Reach out to the host webmaster and request them to update the URL.

Bad Code

The server finds the HTTP code as violating the specification.

Identify if the HTTP code has either a coding problem, server misconfiguration, or a similar technical issue. Once you have the solution, reach out to the host webmaster with the issue and the solution and request them to fix it. 

Empty

The server shows the request as empty, returning no content and no response code.

Inform the host to fix the issue. It is probable that this error shows when the content page turns out empty. 
BONUS TIP: Use your competitor's broken backlink to your advantage
Broken Backlinks are not just a problem for your website. A trustable website that gives you a backlink will suffer if the backlink is broken too.
Use this to your advantage. 
Begin by going on AHREFs under the site explorer tab. Enter your competitor's website and hit enter.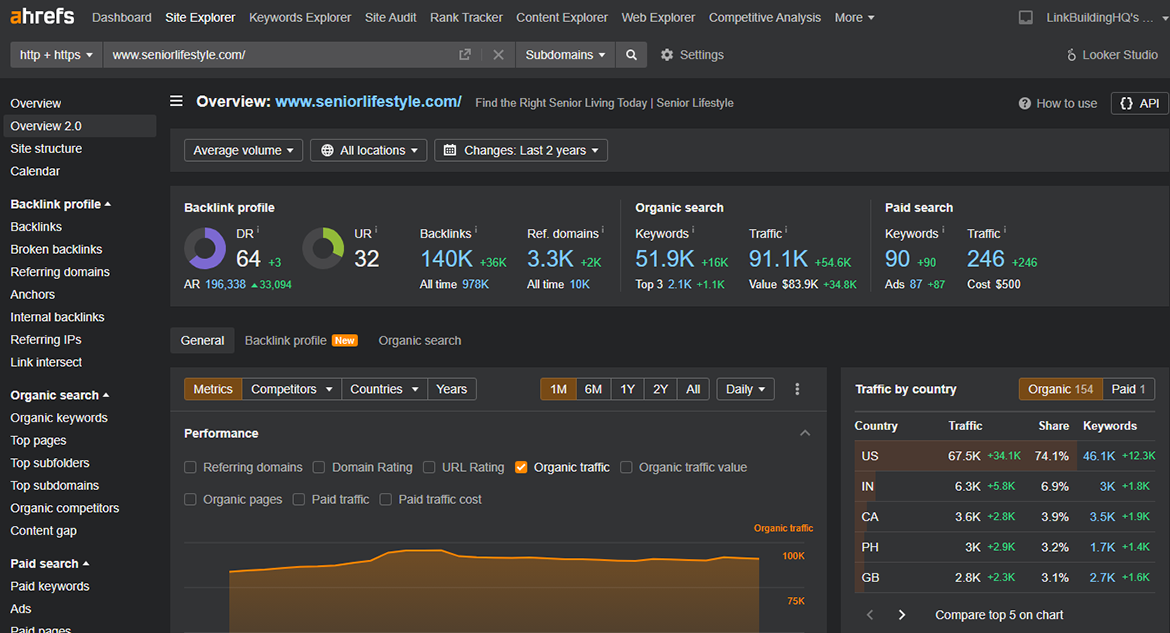 On the left-hand side, click the option 'broken backlinks' and you will get a detailed list with all the error codes.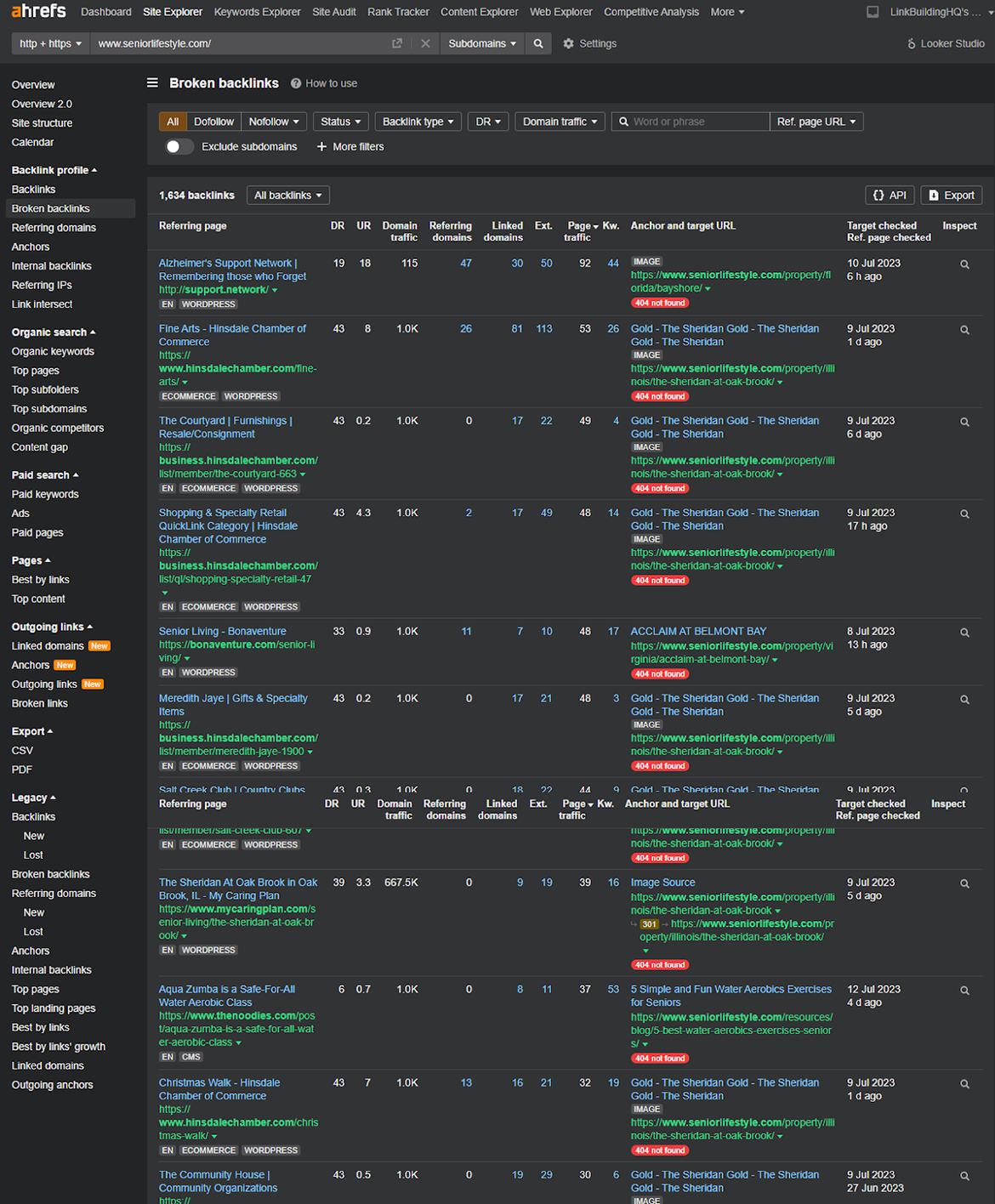 It will give you a list with all the errors in the backlink profile of your competitors. 
Identify broken backlinks with either 404 or 400 errors. If you have a similar piece of content ready, then move forward. However, if you don't, then you have to create the content, optimize it, and publish it on your website, and then move forward. 
Contact the host webmaster and tell them how their outbound link is broken. Explain to them how giving a bad backlink is harmful for their website as well. When you have made your point, offer them your replacement. 
Tell them how it has everything that they would benefit from as well. 
Most websites know how giving a broken backlink will tarnish their credibility and might just replace it with their own. 
Wrap up
Having a strong backlink profile is important for you. When link building, remember to find websites that give you ample link juice for maximum gain! Having a backlink profile that has no errors is even more important! A few quick fixes and you are on track! 
Good luck!