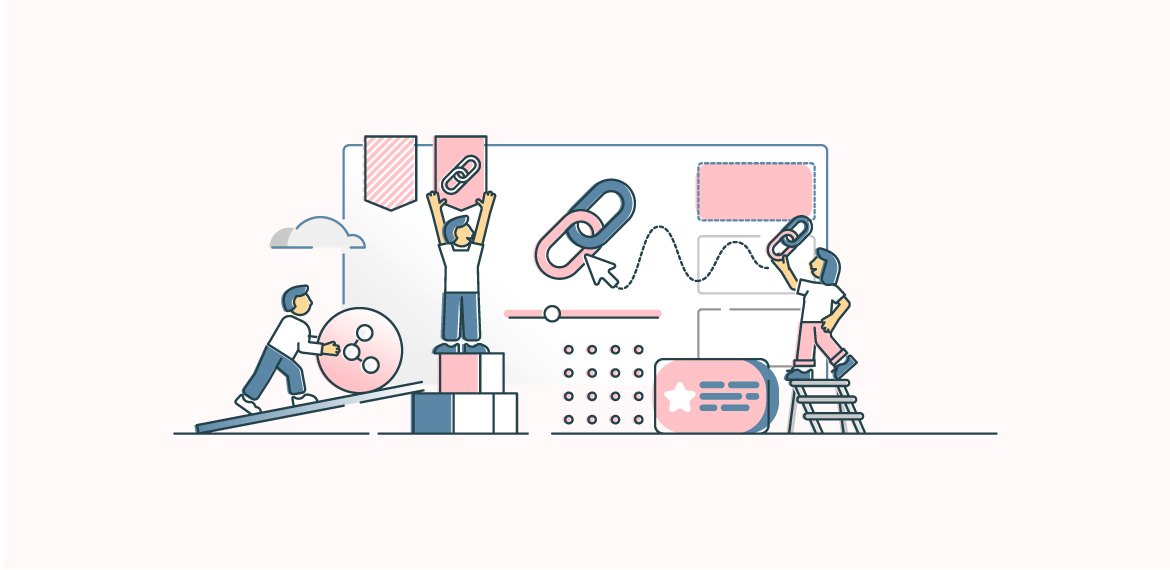 Layout2
The Future of Link Building: Emerging Trends and Strategies
In the world of SEO, one aspect has remained a fundamental cornerstone of online visibility and success: link building. As link building goes on, Google keeps fighting off shady strategies to ensure no spam.
Spoiler alert! Gone are the days of mere quantity, as the future of link-building revolves around quality, relevance, and user-friendliness. 
In this blog, let's explore the Future of Link Building and what it might bring to us. 
Note that it is important to evolve in the link-building approach as the digital world evolves. With this blog, you might just be able to get ahead of the curve and embrace emerging trends and strategies.
Without further ado, let's dive into this journey where innovation meets tradition, and where the bond between content, authority, and connectivity shapes the digital landscape of tomorrow.
AI in link building 
AI has taken over the world by storm. If you know what ChatGPT is then you are part of the world it has taken over. As the concept of AI is rising, it is being incorporated into the link-building world too. 
Currently, for link building, you have to find the best prospects and find them through analysis manually. However, with AI you have the list in your hands and most of the work seems to be complete. 
Moreover, while still in the beginning stage, AI outreach tools are making the process automated and in some cases even fruitful. 
As of today, the data provided gives limited results. This means that AI's only limit for link-building services is the strength of the data and the prompt. We believe that it will get better and give more apt results soon. 
A prediction is also that AI will soon be able to tell you how well your strategy will work without being solely dependent on A/B testing. This will make link-building a faster and more optimized process and the chances of successful link-building for everyone may rise. 
Higher criteria for user experience
Google is becoming more democratic every day – of the people, by the people, for the people. This means that in the future, the websites with the best user experience will be the highest of priorities on the SERPs. 
The Google standards are already very strict on user experience and in the near future, they might get even more strict. This is why only websites that cater to users in every field will get the best backlinks. 
Why would any website give a backlink to a website with low authority? 
Brand building
Having backlinks or giving backlinks to quality websites is one of the best things you can do to surface on the SERPs. John Mueller once said "…links will always be something that we care about because we have to find pages somehow. It's like how do you find a page on the web without some reference to it?"
However, in an effort to remove spammy and pointless backlinks, Google's SpamBrain AI Algorithm works wonders to reduce spammy and low-quality backlinks. To keep them valid and functional, in the near future, Google may make its guidelines even stricter for a valid backlink profile. 
So, to stay safe your website needs to have proper brand positioning and recognition of authenticity in your niche. This will allow you to receive high-quality backlinks for your website that help you rank. 
Personalization 
One of the many things that will change is the level of personalization. Currently, people who outreach for link building start with something like 'Hey! I love your website and so on..' Amit Raj who is the founder of 'The Links Guy' once stated that because of AI used for writing, the personalization factor has become disingenuous. 
He further claims that this process may work on a certain level, but may not work in the longer run on an excellent outreach result. While he specifically mentioned candidacy and personalization, you should know where to stop. 
For outreach for link building, it might currently be working. But the experts in our team and around the world predict the fakeness of it and it being AI has become so evident that it does not seem worth a response anymore too. 
Paid links are okay!
Yes! You read that right! And Google is saying this! No, we are not joking! 
You see, Google has revised its terms for paid link-building guest posts and so on. Google says that it understands that websites do have to make money somehow and that is fine! However, going forward, Google tells us to be nothing but honest.
Confused?
Let me clear it out!
"Google works hard to ensure that it fully discounts links intended to manipulate search engine results, such as excessive link exchanges and purchased links that pass PageRank."
Yes, Google once said this! But now it's changing. Now it says 
"Google does understand that buying and selling links is a normal part of the economy of the web for advertising and sponsorship purposes. It's not a violation of our policies to have such links as long as they are qualified with a rel="nofollow" or rel="sponsored" attribute value to the <a> tag."
So, does that mean that Google has no way to find out that your links are paid? 
First of all, being user-first, Google will for instance find out the low quality and lack of helpfulness of the content if it is that way. Moreover, if you use paid backlinks with the intent of trying to trick the algorithm there is a good chance you will be caught. If you, by miracle, cross these hurdles, then your competitor just might snitch on you. 
However, if you are suddenly the luckiest person on the planet and somehow you are saved, one day you might fall bad! 
The solution is simple! 
You have to define your relationship to Google through the rel attributes. 
Use rel="sponsored" when you want to tell Google that this is a paid placement and Google will be kind enough to disregard it. 
Use rel="ugc" to tell Google that this is purely user-generated content and you are not responsible for the endorsement, quality, or accuracy of it 
Use rel="nofollow" to tell Google that this site is not something you want to be associated with so don't follow it in your regard or crawl the page.
Grey Hat Link Building is out of the question
White hat link building is the purely organic way to build links without any loopholes in the system. Black hat link-building is very unethical and violates Google's spam policy. It literally means violating every rule and building links. For example, paying for them.  It is not allowed – no questions asked!
However, in recent times, Grey Hat Link Building seems to be on the rise. Grey Hat uses the techniques of white hat link building and black hat. So you can say that they take advantage of the loopholes in the system and work to create links. 
For example, Google counts link exchanging as a serious offense under spam. However, companies tend to use sister companies or personal relationships to exchange these links. This comes under a grey hat. While it is not illegal and easy to pick by Google, it is not very encouraged. 
Experts say that in the near future, Google will be able to pick Grey Hat Link building easily and more consistently. This means that if you are currently taking advantage of the algorithm not detecting your practices, then it is time to rethink your strategies before all goes downhill for you. 
Diversity
As Google becomes more diverse, one way it picks out a strong backlink profile is through diversity. Gone are the days when only guest posting or only social media can build you an authentic set of backlinks. 
This has come in practice that you need a diverse profile. From social media, influencers, websites, guest posts, and everywhere else on the internet! For a rich and functional backlink profile, websites will now need a more diversified host that gives them backlinks. 
If you are targeting yourself to one medium to gain backlinks, switch it up and reach out to more people and adjust your strategy to be diverse. 
Conclusion
As we conclude our journey through The Future of Link Building, it becomes clear that link building is no longer a mere numbers game but a sophisticated art that demands creativity, relevance, and genuine value. 
The future of link building is currently and will be revolving around user-centricity and organic link acquisition. By creating EEAT standard content, one may naturally attract links from authoritative sources and amplify your backlinks. 
Embracing collaboration with influencers and industry leaders can unlock new avenues of exposure and link opportunities, as their support brings a stamp of authority and authenticity to the brand.
Moreover, brand mentions and unlinked references are no longer overlooked; they serve as potential link-building opportunities.