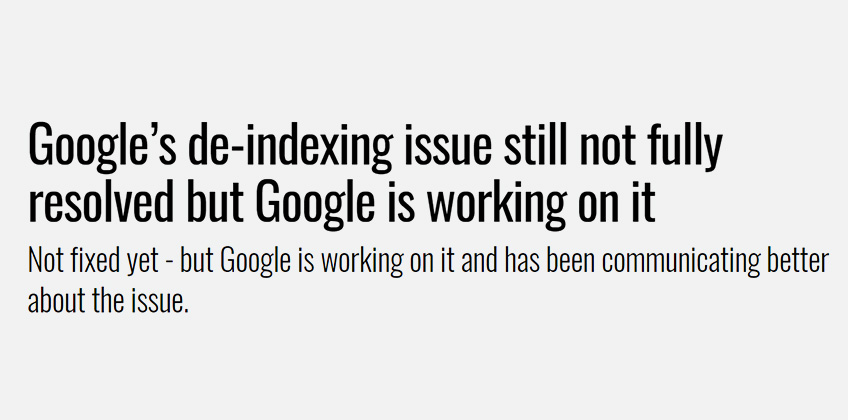 Layout2
Google's De-Indexing Issue – Not Fixed Yet!
Thursday last week, Google started de-listing many URLs from the index and after lots of complains from the webmaster and SEO community, I initially thought, this is another Google's uninformed update. So, as usual, I started looking into the test websites and found no pattern and Google was literally de-listing many websites.
On April 6th 2019, Search Engine Land published a news, saying that Google's De-Indexing issue is fixed. But, now Google is saying that the issues is not 100% fixed and they are working on re-processing lots of URLs.
How to get your de-listed URLs back in index again?
To be honest, there is not much you can do about it. This is Google's issue and they are trying to fix it and even if you do nothing, you will be back in index pretty soon (in couple of days). But, what these few days means to your business. Especially, if your money making page is de-indexed.
Keeping the Google's general indexing nature, I think couple of things will hopefully, increase the re-indexing speed of your de-listed URLs.
Note: I am not going to cover common tactics like using fetch as Google, or utilizing your crawl budget efficiently. I think this is something which you should have been doing. But I am trying to share ideas that will give extra signals to Google and push the index to crawl websites more efficiently.
Here are some of the ideas:
Ping Service
Not really the best idea but I have seen this working from time to time. Plus its free. Simply, go to Pingo-matic website and include information and it will ping range of different services. Search Engines will get notified that the website is updated. Because Google is missing some URLs that you have on your website, chances are that you will get indexed quicker.
Internal Links
Another idea could be internal links. Search Engine crawl from pages to pages using HTML code. If you have only few pages indexed in Google. Try to add some internal links to pages that are de-indexed and this will give an extra signal to Google and push the crawler to index the URLs with more signals.
External Links
External Link, that too is from a page that is already indexed in Google will be a strong signal to not only re-list the URL in Google index but also passes the link juice that can result in better rankings on Google from the target key phrases.
In that case, Guest Post in particular might not work but in-content URLs will be great help.
Update Site Map
Another good idea will be to update your website's xml sitemap and resubmit it in Google Webmaster Console. When Google will find new data in GWC, chances are your de-indexed list will be re-index again.
There may be more ideas but I can quickly think of the above mentioned few. If you are choosing external link as an idea, do check our offerings and order today!