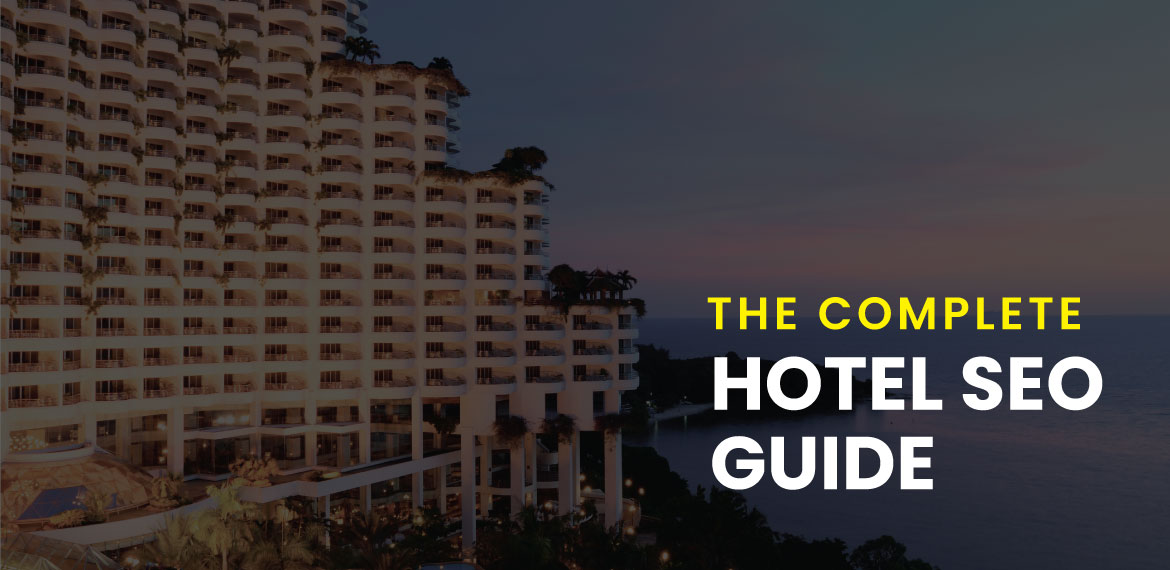 Layout2
SEO For Hotels [The Ultimate How-To Guide]
Are you struggling to improve your hotel's visibility in search results?
Do you want to attract more guests to your hotel?
Well, this article will help you do all that and more!
Search Engine Optimization (SEO) on your website helps improve your ranking in Google searches. An effective hotel SEO strategy can help you get better visibility, more traffic, and ultimately: more bookings.
Introduction to Hotel SEO
Visitors use Google searches to look for products or services. Whenever a visitor enters a search query, Google's algorithm aims to find the best results i.e. best optimized.
Google's search algorithm uses hundreds of ranking signals in deciding which content to show in its SERPs.
The better your SEO strategy, the higher your website will rank on search engines.
The first Google result gets 33 percent clicks, according to recent research. The percentage drops down the ranking results. Most people click only on results that pop up on the first page of their search results.
In the hotel industry, there is a lot of competition. A Google search for 'hotels near you' will give hundreds of results. SEO is vital to get your foot in the door and attract more bookings.  
SEO is one of the most lucrative way of marketing your product. The right SEO strategy can help you lower ad spending while giving you passive organic traffic.
Google uses more than 200 metrics to display search results. You cannot comply with each one, so we have listed a few easy-to-follow SEO practices to improve your rankings. 
You can divide your SEO strategy into two parts, On-page and Off-page.
On-page Optimization
On-Page Optimizations are within the website. Here are some you can do for your Hotel website.
1. Start With Keyword Research
Let's begin with the fundamentals of SEO.
Keywords are a crucial component of SEO strategies. Your website should include keywords people use to find hotels. So, you have to research the tools for your niche. You can use an online tool to help you do the research. 
There are even browser extensions that show an estimate of the search volume for keywords. However, not all keywords are the same. Users should pick thematic keywords to improve organic traffic. Fortunately, you can use online tools for this, such as Ahrefs.
2. Create Higher Quality Content
Writing high-quality i.e: high-value content for frequent travelers and holiday enthusiasts is the building block of your SEO strategy.
You can use your content to improve your keyword placement. Initially, marketers ignored content quality and focused on keyword stuffing. However, users would bounce off these sites because they did not find relevant content. 
Google keeps changing the algorithm. Nowadays, search engines rank relevant, in-depth, accurate, unique, and user-friendly content. So, your content should have trustworthy information. Try to develop a variety of content, such as blogs and articles. 
A majority of Internet users (about 80%) prefer reading online articles and video content as opposed to podcasts and infographics. This means there's a massive market in hotel businesses that's ready to be tapped through blogs and vlogs.
3. Location-Specific Landing Pages
Nowadays, people are looking for hyper-local answers to their queries.
For instance, travelers are likely to search for "hotels in new york city" when planning a trip to the Big Apple. So if a hotel can create a landing page for their hotels in New York City, they have a better chance of appearing for that search query on Google.
In fact, Millennium Hotels does a great job of doing just that.
According to one survey, local searches are two times more likely to result in purchases. Brick and mortar businesses, like hotels, can benefit from this greatly by using location-specific landing pages.
However, you may have to make some changes to the content of your landing page. Look for relevant keywords according to your geographical location and use them in your content. 
4. Site Architecture
Website architecture is the structure of the content on your hotel website.
Your content should make it easier for search engines to crawl through your website and fetch relevant data for people searching for hotels. An excellent site architecture makes a website SEO-friendly.
The first thing you can do is use simple URLs for your posts. Your URL should always have lowercase words and descriptive keywords like:
www.yourhotelbusiness.com/blog/affordable-hotels-in-uk
www.yourhotelbusiness.com/blog/best-hotel-deals-2021-dec
www.yourhotelbusiness.com/blog/packing-for-winter-vacations
Another way to improve site architecture is by using a sitemap. These maps point bots to the pages you want them to crawl.
5. Page Load Speed
If there is one thing users value above anything else, it is speed.
Google also uses page and site rates to rank websites. Speeding up your website is necessary as it improves user experience. 
Begin by evaluating the speed of your website with a free tool, such as Page Speed or YSlow.
You can optimize your images to make your website faster. Use CSS sprites to combine the images on sites into one image that loads quickly.
Some hosting services also increase website loading times. So, get a high-quality hosting service for your page.
6. Alt-Text on Images
Every image on your page has an alternate text or Alt-Text. This text is displayed if an image does not show on a page. Alt-text is vital for SEO optimization because it helps search engines understand pictures. It also helps visually impaired readers understand imagery.
7. Make your Website Mobile-Friendly
More than 60% of all Google searches are from mobile devices. Google strongly recommends website owners to focus on the smartphone element of their website.
Run a mobile-friendly test to check whether your website is mobile-optimized. Then, work on your responsiveness. Display the same content on the desktop and mobile site to maximize user experience. Check the quality of your images and use supported formats for pictures.
8. Create Infographics
Infographics are still relevant to SEO strategies.
Visual marketing tactics can help website owners engage with their target audience and earn backlinks. However, not all infographics are the same. 
Hiring someone to create an infographic can cost as much as a thousand dollars. But, not everyone can afford that much money. You can use Dribbble to look for professional designers at a lower price. You can also try to create the infographic yourself with Canva. 
Off-page Optimization
Off-Page Optimizations are outside the website. Here are some you can do for your Hotel website.
1. Work on Link Building
Links are vital for search engine rankings. While initially, links were the only ranking factor for Google, things have changed in the past few years. Post-2013, search engines prefer high-quality content with external links. So, the quality of the link is vital. However, the quantity of the links is equally important. Sites with several external links rank better than sites with fewer links. There are several ways websites can earn more links. You can either guest post on other blogs or email bloggers for links.  
2. Use Google My Business
Hotel businesses can create profiles on the Google directory to improve off-page SEO.
These profiles help them rank at the top of search results when looking for temporary accommodation, motels, or weekend stays.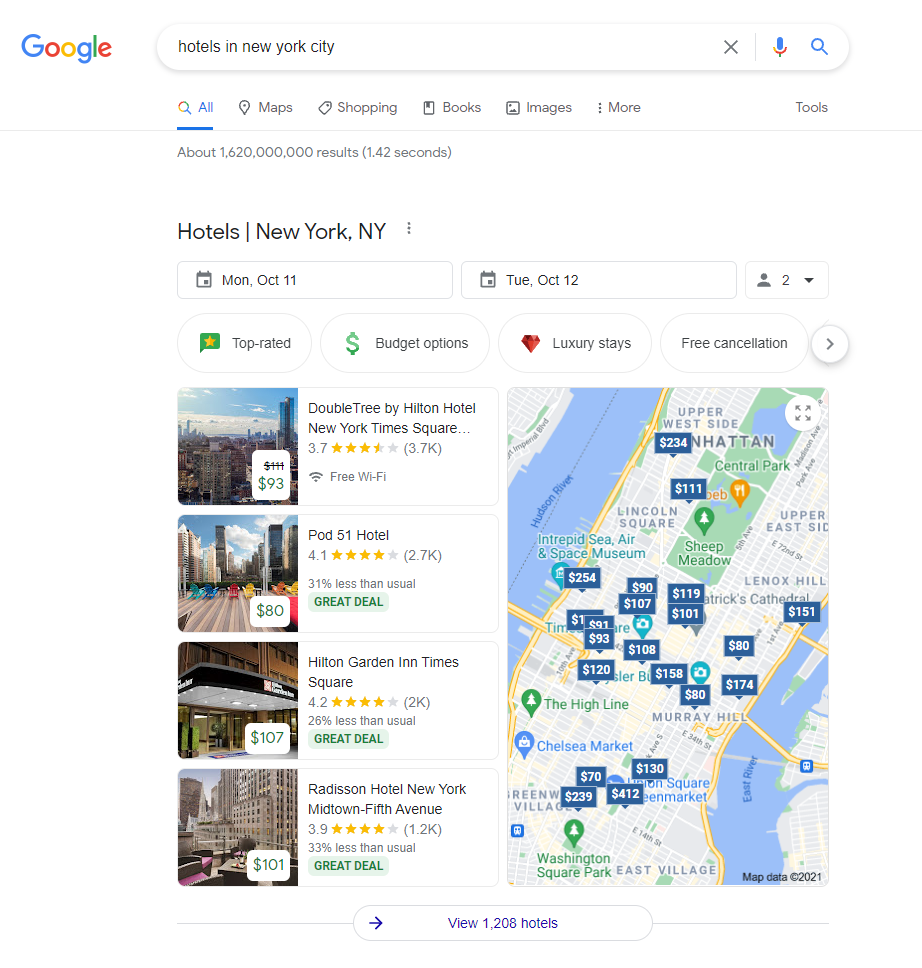 Not only do you have to claim your Google My Business, or GMB, profile, but you also have to optimize it.
Add your business details on the tool and then choose a category. Upload some photographs and list your opening hours to improve optimization.
3. Work on Getting Reviews
Visitors usually use reviews to get valuable information about a hotel's experience.
They also increase the customers' trust in the business and help improve the hotel's position in local search. According to Moz, reviews are the third most vital metric to rank in the "snack pack." Ask your guests to give you positive reviews on sites such as Make my trip or trip advisor.
Bonus Tip: What to Avoid!
Websites may get penalties either because of black-hat tactics or algorithm updates. Tactics such as suspicious links or keyword stuffing can harm your rankings. You can use audit tools to identify dangerous backlinks that can cause a penalty. You can run SEMrush's Backlink Audit tool to get rid of toxic links on your webpage.
Final Takeaway:
Remember that SEO is not an immediate answer to improving your search engine ranking. It is a gradual and time-consuming task to improve your hotel business ranking. And you might even make a few mistakes along the way (that's fine). As long as you keep at it, this will all be worth the effort.