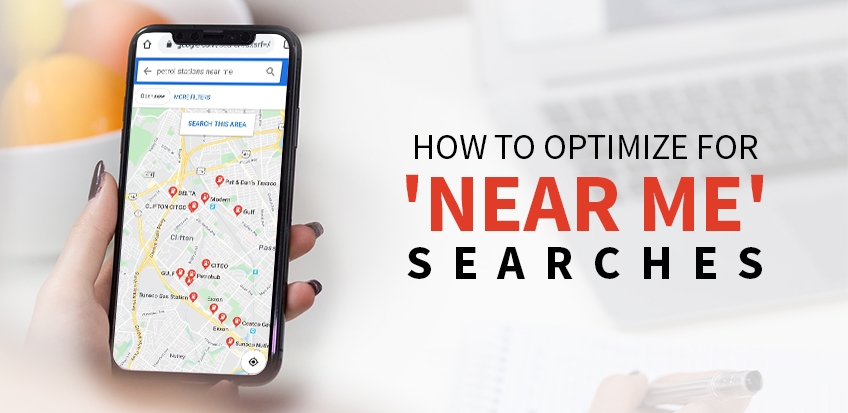 Layout2
How To Optimize For "Near Me" Searches
The use of voice-enabled devices has increased exponentially during the past few months. These include Alexa from Amazon and Google Home.
Another similar phenomenon is the rise in local searches carried out by smartphones and other hand-held devices. Recent research has revealed that by 2021, search queries through hand-held devices will be responsible for around 1.5 trillion dollars in local sales.
If your business is not already optimized for 'near me' or local searches, this is the perfect time to start doing it.
This article will shed light on the importance of local search engine optimization (near-me searches in particular), enabling you to get a higher ranking; whether the user is searching through a desktop, laptop or any hand-held device.
What is meant by a 'Near Me' Search?
A 'near me' search generally occurs when a user is searching for something nearby, be it a product, service or simply information.
During the past few years, Near-Me searches have increased by 900%. One of the many reasons for this notable rise is that the majority of hand-held devices are GPS enabled; allowing Google to track the physical locations of users. This, in turn, allows Google to return the most localized results to the browser.
For businesses, 'Near Me' searches are a great way to reach prospective customers in no time.
When a searcher adds 'Near Me' at the end of his or her search, it shows Google that he or she needs the service or product immediately, and intends to make a purchase right away.
Now as we know how local searches are gaining in popularity, let's explore further and identify the leading categories that are popular with "near me" search queries.
A survey carried out last year revealed that more than 80% of their respondents had performed a 'Near Me' search within the span of four days. It further stated that the majority of 'Near Me' searches were carried out for food and entertainment. People also searched for finance and banking, and clothes.
The results of the aforementioned survey make it clear to business owners and marketers that optimization for 'Near Me' is the most vital aspect of making a sale these days.
How to Optimize for 'Near Me' Searches
If you intend to increase your chances of appearing in 'Near Me' search results, it is extremely important that your business presence is optimized for these kinds of searches.
The following tips will help you with optimization for 'Near Me'.
1. Listing on "Google My Business"
Let's suppose you type 'Italian Restaurant near me' in search, and the name of a top Italian restaurant comes up immediately. How does this happen?
First of all, you need to open a business account on Google My Business. When you are creating this business account, make sure to enter the following information correctly:
Name of the business and its complete address.
Directions to reach the given address. These directions should be provided with the help of Google Maps. You should note that the name, address and contact details provided here must be consistent throughout all your business profiles present on the internet.
Working hours of your business (opening and closing times). Contact details including phone numbers and email addresses. Also, add the address of your website.
Make sure that you have selected the appropriate category of your business at the time of opening your business account.
Add a few photographs of your products or services.
Add general requests for users to write reviews. This is very important because prospective customers will read these reviews and make up their mind about making a purchase. Moreover, Google prioritizes (business) results with more reviews.
List down other attributes and amenities that you are offering to your customers, for example, free Wi-Fi, free delivery, etc.
2. Comprehend the Importance of backlinks with geographic anchors
Backlinks are very important if you want to increase your ranking on local 'Near Me' searches. You can achieve this by incorporating backlinks that offer geographically-relevant anchor text.
Here is an example: If you want high ranking for all 'Near Me' searches for New York, and for 'steaks', you must incorporate location-relevant variants of anchor text e.g. 'best steak house in New York' and 'Steak house in New York', etc.
3. A mobile-friendly website is a must
It is a little known fact that Google has a built-in preference for returning websites in its search results that offer the finest user experience.
You can achieve this by optimizing your website for mobile phones and hand-held devices. It will also increase their load speed on said devices. Consequently, you will rank higher on all 'Near Me' searches.
Make sure that your website offers the same great experience to every user regardless of which device they are using to access your website.
4. Obtain and incorporate local links within your blog
One of the best ways of obtaining local links is through your own blog. You can create and share articles through your blog frequently. It provides an opportunity for your audience and other users to remain updated as soon as you offer a new product or a service.
You can obtain local links through your blog and also persuade your audience to buy your products when they are searching for something similar on the internet.
Another great idea is to conduct interviews with local people and ask them to share their opinion about your product or service. These can also be shared on your blog.
This neat little infographic summarizes the basic steps you need to take to optimize your business for "near me" searches:
The Final Word
Near Me searches are getting more and more frequent which means that you need to optimize for these kinds of searches. Apart from using the aforementioned tips, you should also make sure that your URL remains easily readable and user-friendly.
Business owners who are able to tap into the 'Near Me' phenomenon sooner than the rest, will be able to reap the rewards earlier. Businesses that ignore it will be left behind in the race to riches.
If you haven't already started optimizing for 'Near Me' searches, it is time to take the lead use it to generate new leads for your business.